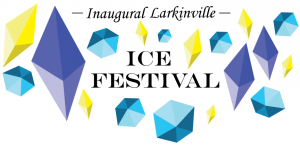 Join us on Saturday January 31st 11-3pm for the Inaugural Larkinville Ice Festival! The festival will span 3 destinations in Larkinville: The Filling Station Restaurant (next to Larkin Square), the Hydraulic Hearth, and Flying Bison Brewery!
The Filling Station proudly hosts Buffalo native, Ethan Cox, who will be speaking about his upcoming book, "Buffalo Beer: A History of Brewing in the Nickel City." Also speaking will be historian Chris Hawley, and Carl Schmitter of Chateau Buffalo, and Frank Weber of of BFLO Distilling Co. The Filling Station will be open from 11am-3pm, serving a limited menu of hot pretzels, soups, and paninis. Talking Leaves Book will also be on site, selling copies of Cox' new book. Bring your purchased copy over to the Hydraulic Hearth or Flying Bison and the bartenders will treat you to a beer!
Schedule of Speakers at the Filling Station:
12:00-12:45pm: Chris Hawley on Sweet Peggy O'Neil
1:00-1:45pm: Ethan Cox
2:00-3:00: Carl Schmitter of Chateau Buffalo and Frank Weber of BFLO Distilling Co.
Venture outside into Larkin Square and partake in kid-friendly (and adult friendly) fun! Activities include a build-your-own snowman station (weather permitting) snow sculptures, winter pickle ball and Kan-Jam, a Bubble Hut featuring the picturesque "self-encapsulating bubble" and a winter kids craft from 11am-12:00pm!
Take a walk across the street to the Hydraulic Hearth for the morning opening of Mickey Harmon's newest exhibition at (716) GAL-LERY: A Pie-Eyed Night With Peggy O'Neil. Enjoy the Hearth's signature "Bagels and Brooze" brunch special, complete with ready-made bagels,  gourmet spreads, and unique drink specials, and live music.
End your tour at the Flying Bison Brewery with a Blizzard Bock and a bite from the food trucks. Take a tour of the new space and sample an array of beers, all brewed on site. Keep your eye out for live ice carving and completed ice sculptures!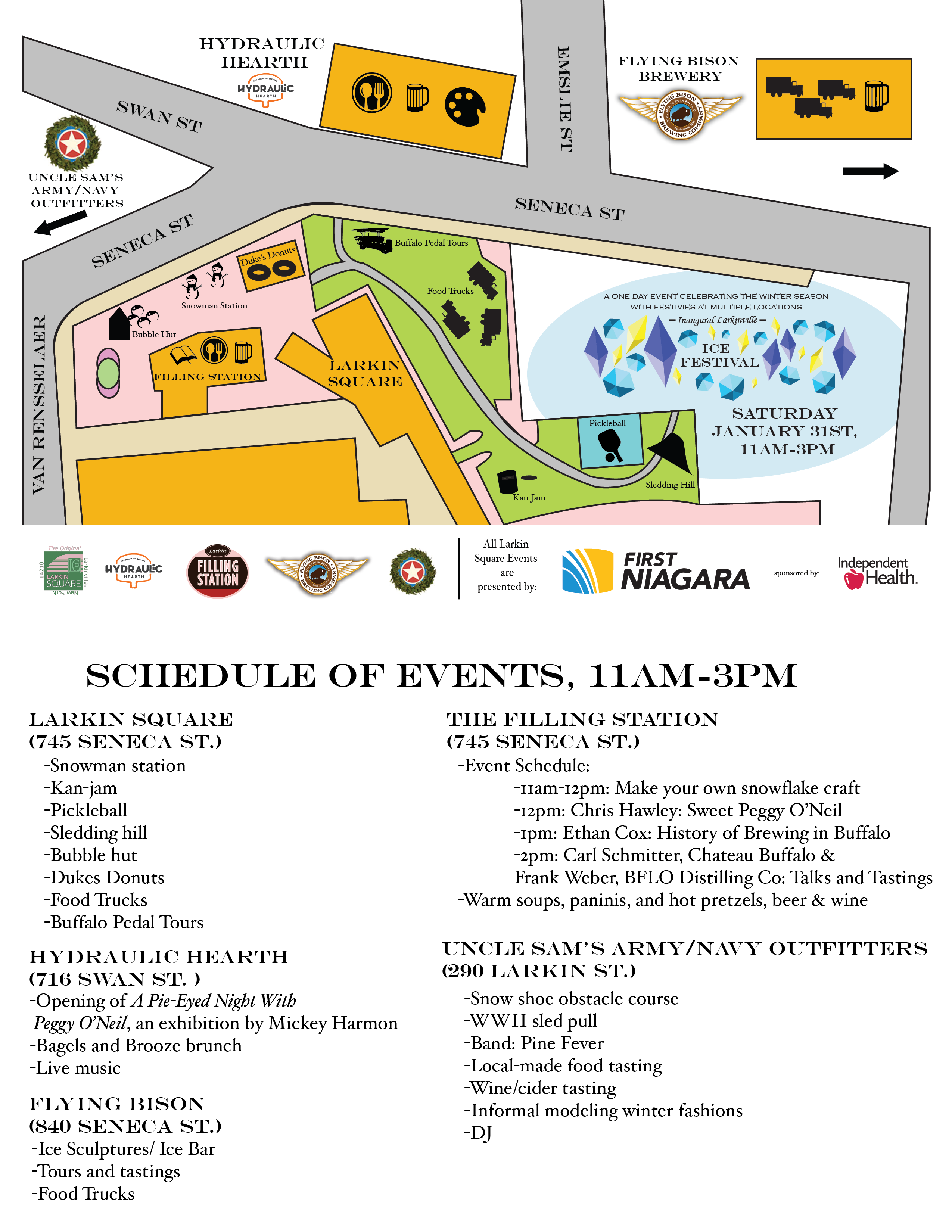 The Filling Station: 745 Seneca Street (next to Larkin Square): 716-362-2665
The Hydraulic Hearth: 716 Swan Street (across from Larkin Square): 716-248-2216
Flying Bison Brewery: 840 Seneca Street: 716-873-1557

The Larkinville Ice Festival is presented by First Niagara and sponsored by Independent Health.