Lunch Menu
745 SENECA STREET BUFFALO, NY 14210 | 716.362.2665
JOIN US FOR LUNCH MONDAY – FRIDAY 11:00 a.m. – 3:00 p.m.
Chef's Choice, Made Fresh
---
Creme Fraiche, Roasted Pumpkin Seeds
---
Serrano Peppers, Tomatillo, Oregano
---
Served with Two House-Made Dipping Sauces
---
Sliced NY Apples, Roasted Cinnamon Walnuts, Orange, Pepitas, Parsley, Arugula, Apple Cider Vinegar
---
Romaine, Kale, Parmesan, Caraway Croutons, Lemon Wedge, Caesar Dressing
---
Mixed Greens, White Wine Poached Pear, Fennel, Parmesan, Crispy Pancetta, Walnut Vinaigrette
---
Mixed Greens, Romaine, Breaded White Fish, Hard Boiled Egg, Pickled Red Onion, Fried Tomatillo Croutons, Cojita Cheese, Aunt Jova Hot Sauce, Basil Vinaigrette
---
ADD PROTEIN
Sliced Chicken 4 | Seared Salmon 7 | Shrimp 5 | Hard-boiled Egg 1
CALL 716-362-2665
To Ask For More Info About Our Specials & Fresh Baked Desserts!
---
Sandwiches served with fresh house-made sides. Chef's choice.
---
Mild Cheddar, House Sauce, Tomato, Red Onion, Lettuce, Spiced Potato Bun, House Pickle
---
Seared Salmon, Bibb Lettuce, Bacon, Tomato, Dill Garlic, Brioche
---
Turkey Breast, White Cheddar, Harissa, Sundried Tomatoes, Arugula, Pumpernickel
---
Half House Turkey Sandwich with cup of soup OR Half salad (Mahi Mahi not included)
---
Roasted Chicken, Candied Walnuts, Grape, Aigre Doux, Chives, Sour Cream, Mayo, Celery, Lettuce, Served on Warm Pita
---
Chicken Meatballs, Smoked Tomato Sauce, Basil
---
Chef's Choice, served with Dressed Arugula, Prepared Fresh Daily
---
ADD TO ANY ORDER:
Bacon $1 | Avocado $1 | Cheese $1 | Hand Cut Fries $3
---
Please inform us of allergies & dietary restrictions!
SODA
Coke, Diet Coke, Sprite, Ginger Ale | Johnnie Ryan: Diet Root Beer, Cream Soda, Birch Beer, Black Cherry | Saranac Ginger Beer
---
WATER
San Pellegrino | Club Soda | Dasani
---
HOT TEA [Smith Teamaker]
Hot Fez Green | Hot Peppermint | Hot Brahmin Black | Hot Lord Bergamot Black | Black Decaf
---
ICED TEA [Smith Teamaker]
Cold, Fresh Brewed Black
---
COFFEE [TIPICO]
Regular | Decaf
---
BEER
LaBatt Blue Light | Flying Bison: Rusty Chain & Seasonal Brew | Stella Artois | Great Lakes Seasonal Brew
---
WHITE WINE
Chardonnay | Riesling | Pinot Grigio | Sauvignon Blanc | Prosecco
---
RED WINE
Pinot Noir | Malbec | Cabernet Sauvignon
---
Host your event at the Filling Station, or ask us about catering options.
---
Host your event at the Filling Station, or ask us about catering options.
* Healthy Options program-approved item. Heart-healthy, lower in calories, fat, saturated fat, and sodioum.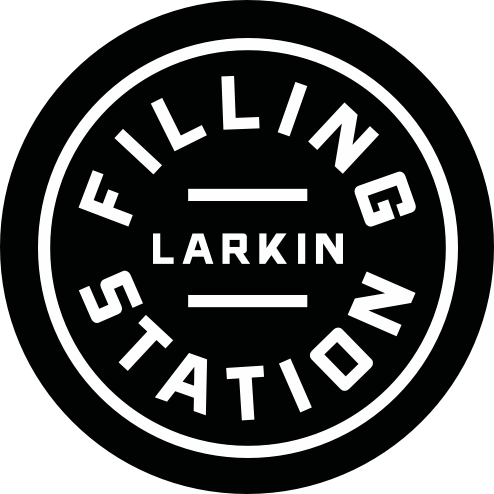 RESERVE A TABLE
ORDER ONLINE
For the latest updates, follow The Filling Station on:
Filling Station Restaurant and Catering
745 SENECA STREET BUFFALO, NY 14210 | 716.362.2665
JOIN US FOR LUNCH MONDAY – FRIDAY 11:00 a.m. – 3:00 p.m.
Join us for lunch at The Filling Station, open Monday – Friday from 11:00 a.m. to 3:00 p.m., with takeout only from 2:30 – 3:00 p.m. Enjoy freshly prepared food with a focus on delivering fresh, seasonal ingredients and outstanding customer service. Diners can partake in a full-service, dine-in experience with weekly specials prepared daily by our chef, or take out and dine in Larkin Square.
The Filling Station is also available for private events and catering. Enjoy the ambiance of Larkin Square and The Filling Station for every kind of event — from an office party to a birthday celebration, wedding rehearsal dinner to the wedding ceremony itself. The Filling Station team will work with you to create the perfect event that meets your individual needs. Contact us today for more information.
For catering, contact:
laurenw@larkinsquare.com
716.362.2668
Private happy hours available:
Weekdays from 4:00 p.m. – 6:00 p.m.
Advanced booking only.
For private parties, contact:
bridgets@larkinsquare.com
716.346.8053
CONTACT US