On Tuesday, January 14th, 2020 at 5:30 PM, The Larkin Square Author Series is pleased to welcome Burchfield Penney Art Center curators and writers, Tiffany Gaines, Scott Propeak and Tullis Johnson, to speak about the exhibition In The Fullness of Time:  Painting in Buffalo, 1832-1972. Gaines, Propeak and Johnson will share background and highlights of the exhibition. The event will be held in the Filling Station in Larkin Square, 745 Seneca Street. The talk includes free admission and free parking.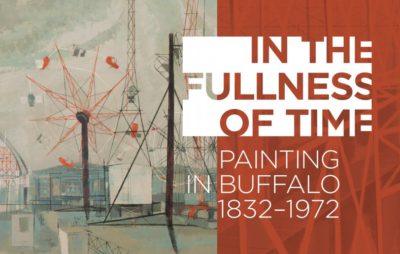 In the Fullness of Time, Painting in Buffalo, 1832-1970 is currently on view at the Center until February 29, 2020. The exhibition draws from public and private collections and focuses on important works and painters whose work had a lasting impact on the art and artists of the region.
Important works from The Center are exhibited from early in the history of the city of Buffalo, including works by Hamilton Hamilton (1847-1928), William Graham (1832-1911) and Annie Crawford (1856-1942). Rarely seen works from private collections by artists like Grace Beals (1868-1929) and Florence Julia Bach (1887-1979) are included as well. The exhibition covers the history of the practice of painting in Buffalo and the surrounding region from the time of the founding of the city of Buffalo in 1832 until 1972.
Painting in Buffalo is accompanied by a 240 page hardcover catalogue designed by the Larkinville design firm White Bicycle, and includes biographies of 86 artists and all of the 100 painting of included in the exhibition. The catalog also includes an essay by Tullis Johnson, Albert Michaels and Scott Propeack who co-curated the exhibition.
The catalog will be available for purchase at the event in Larkin Square.
Refreshments will be available for purchase at the event. Larkin Square Author events are presented by KeyBank and sponsored by Independent Health.