The Larkin Square Author series presents an evening of mystery writing with authors Jeff Schober and Suzanne Zewan on Wednesday, February 28th at 5:30 pm in the Filling Station in Larkin Square.
Everyone loves a good mystery, learn more about the art of crafting a good one from Jeff and Suzanne.  This will be Jeff's third visit to the Larkin Square Author Series and Suzanne's first.
Jeff Schober is the author of numerous crime fiction books including Boneshaker and Broken and Profane.  His nonfiction works include Growing up Gronk and Bike Path Rapist: A Cop's Firsthand Account of Catching a Killer Who Terrorized a Community.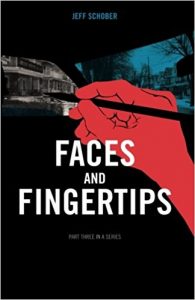 Jeff's newest book, Faces and Fingertips, while written  as a stand-alone novel, continues characters introduced in Broken and Profane and Boneshaker. When these lonely souls converge, results are hopeful, electric, and sometimes heartbreaking.
Ken Connell is a former Buffalo detective who has lost everything: his wife, his job, even his striking good looks, thanks to a shotgun blast that punctured his neck. These days he investigates insurance fraud, reminisces about the woman he loved, and dreams of moving south, while convinced he is being followed. R.J. Sorrentino has always lived on the fringe. He was angry before leaving for Vietnam and grew angrier when he returned. He's a survivor; yet lately, surviving isn't enough. His one chance at redemption is his ability to draw. Now working as a police sketch artist, a grisly discovery twists him back into uncertainty. Laura Pantera inhabits a world that looks different from everyone else's. Her cheating husband is gone, and she's haunted by a painful childhood. Days are long and nights turn surreal when she plunges into an abyss. Yet a mysterious neighbor mat just provide a lifeline to happiness.
Suzanne Zewan  is coordinator at Genesee Valley Educational Partnership and is an adjunct professor at Buffalo State College. She has a M.A. in English and Creative Writing and a M.S.Ed. in Career and Technical Education. Other publications include a poem in Jigsaw (2014), a short story and two poems in Jigsaw (2016), and a short story in Amaranth Review (2016).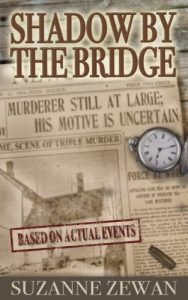 Suzanne will be speaking about her novel, Shadow by the Bridge. In the book, 11-year-old Fritz Reynolds recalled his father telling him that man is the only creature who can find amusement in killing. Little did he realize that those words would become the theme for his teenage years growing up in the rural hamlet on Linden, New York. In this coming-of-age story, Fritz takes us back to a simpler time when neighbors gathered at the general store to listen to radio shows, drank barrel-aged cider and worshiped at the Baptist Church every Sunday. All was picturesque in his close-knit farming community until terror was unleashed on them.
Refreshments will be available for purchase, a Q and A and book signing will follow the talk. Books will be available for purchase at the events through the co- sponsor Talking Leaves.
The Larkin Square Author series and other  public events are presented by KeyBank and Sponsored by Independent Health.