Andrew Stott, author and Director of the honors college and Associate Dean for undergraduate education at UB, will be speaking at the Larkin Square Author Series on Wednesday, October 22nd at 5:30 pm at The Filling Station.
Andrew is the author of the new book The Poet and the Vampyre: The Curse of Byron and the Birth of Literature's Greatest Monsters.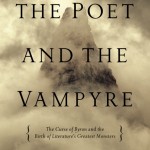 The Larkin Square Author Series is presented by Talking Leaves and Larkin Square.  Jonathon Welch, owner of Talking Leaves has this to say about Andy Stott's new book.  "The characters are utterly fascinating, even if one knows next to nothing about Lord Byron, the Romantic poets, and their times.  Just the fact that those two compelling and still haunting figures (Frankenstein and Dracula) came out of this group of people should be intriguing enough.  I think Lord Byron could well be the first "celebrity," as we call them in modern times–he had this intense fame–from a poem that he wrote–and women, particularly, threw themselves at him (he was apparently a bit of a bisexual, so it wasn't just women).  Most of the book covers a couple  of years in the lives of these 6 people, and they were all incredibly young and precocious."
Please join us for this special talk on Wednesday at 5:30 pm in the Filling Station.  Food, drink and books available for purchase. More on Andrew Stott can be found on his website by clicking here.