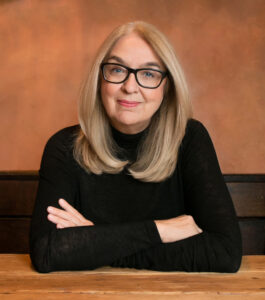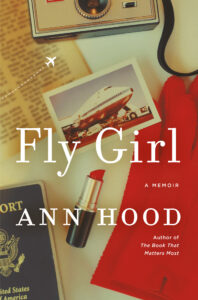 The Larkin Square Author Series welcomes back Ann Hood to Larkin Square to speak on Tuesday, May 31st at 5:30 PM.  Ann will be speaking about her new memoir Fly Girl.
An entertaining and fascinating memoir of "gifted storyteller" (People) Ann Hood's adventurous years as a TWA flight attendant named one of Spring 2022's "Most Anticipated Books" by Apple Books
In 1978, in the tailwind of the Golden Age of air travel, flight attendants were the epitome of glamor and sophistication. Fresh out of college and hungry to experience the world, Ann Hood joined their ranks. She carved chateaubriand in the first-class cabin, found romance on layovers in London and Lisbon, and walked more than a million miles in high heels, smiling as she served thousands of passengers. She flew through the start of deregulation, an oil crisis, massive furloughs, and a labor strike.
As the airline industry changed around her, Hood began to write—even drafting snatches of her first novel from the jump-seat. She reveals how the job empowered her, despite its roots in sexist standards. Packed with funny, moving, and shocking stories of life as a flight attendant, Fly Girl captures the nostalgia and magic of air travel at its height, and the thrill that remains with every takeoff.
Ann has spoken previously in Larkin Square and on a virtual author talk about her books Knitting Yarns, Cooking Yarns and more.
Books and signing  will be available for purchase at the event courtesy of Talking Leaves. The event is free and open to the public, no tickets needed.  The Hydraulic Hearth will be open, located across the street from Larkin Square, before and after the event.