Summer isn't the only time to hang in Larkinville for food trucks, concerts and beer gardens. We're kicking off fall by closing Seneca Street for a neighborhood-wide celebration! From noon – 5pm, guests may enjoy an artisan market along Seneca Street with local artists, makers, a live mural painting, vintage cars, music and more. The Hydraulic Hearth, The Filling Station, Swan Street Diner, Flying Bison, Buffalo Distilling, Kornerstone Cafe and Eckl's will be open for service and live music! See below for the music and event lineup:
Hydraulic Hearth: Welcoming Wayno's BBQ (serving from noon – sell out), live music by Tony Rhodes Trio from 3:30 – 5:30pm
The Filling Station: Open from noon – 5pm in Larkin Square
Larkin Square: Outdoor bar open, live music by John and Mary and the Valkyries from 1:30 – 3:30pm, corn hole, hula hoops and children's activites
Kornerstone Cafe: Live music from noon – 3pm by Ron LoCurto & Ang Ziegler
Eckl's: Live music by Tim Hogan from 2pm – 4pm
Flying Bison: Taproom open with live music by Kickstart Rumble from 3-6pm
Buffalo Distilling: Bar open beginning at noon, barrel races at 3pm (on the Seneca Street Lawn), live music from 6pm – 10pm by Randle & The Late Night Scandals
Lawn Games: Croquet, corn-hole, barrel races and more – stop by the lawn on Seneca Street for some old fashioned games!
PARKING & ADMISSION – Admission to the Block Party is free , including events in Larkin Square courtesy of KeyBank and Independent Health. Parking is located in the lots along Exchange Street, the gravel lot on Hydraulic St. and $5 preferred parking in the ramp adjacent to Larkin Square.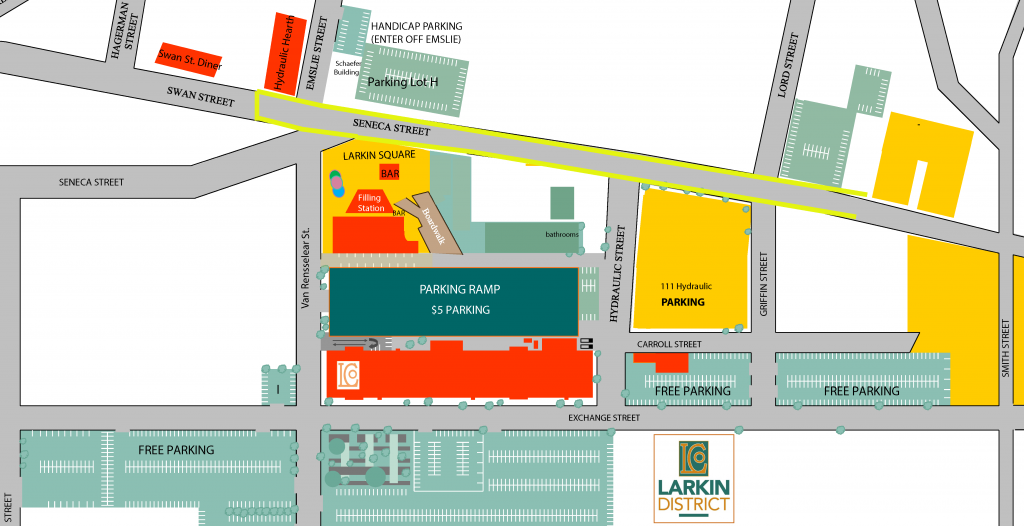 This event is rain or shine! Please visit the Facebook event for timely updates on performances.
VENDOR MARKET – Here are the list of vendors attending this event:
– Bkindcity
– Pretty and Grit
– Wildcrafters
– Buffalo Barrel + Brine
– Duke's Donuts
– Zandra
– Kitch
– Park Edge Sweet Shoppe
– West Gate Co.
– Rusterior
– Mazurek's Bakery
– Kat's Closet
– Joyful Energy Jewelry
– Linwood Candle Co.
– The Flower Stand
– Peg's Hardware
– Buffalo Made Co.
– 1801 handcrafted
– Alpine Made
– SunRae Jewelry
– Shauna Louise Graphics
– Revolution Gallery
– Graetz Stained Glass
– Pet Connection Programs inc. – Marilla, NY
– Kettle Corn
– Pet Wants WNY
– Phoenix Rising Therapeutic Massage & Bodywork
– Stuff Guys Like
– NEW RUINS APPAREL
– West Side Stitchery
– Traveling Growler
– Wandering Threads
– LaCott Fine Art
– J. Savage Goods
– Buffalo Seamery
– Good Company
– Cipshopbflo
– Shop Peppermint
– winners from Ignite Buffalo
– Mapleview Alpacas
– Queen B Lettering
– Jeca Energy Bar Company
– Baby Blue Bird Jewelry
– Blue Table Chocolates
– Tom Burns Photography
– Casa Azul