Since 2002, the Larkin Development Group (LDG) has been actively reimagining, rehabilitating and reconstructing the Larkin District, aka Larkinville, into a lively mixed use neighborhood with residential, office, manufacturing, retail and culinary focused businesses. In recent years, a dozen buildings and 2.0 million square feet of redevelopment has been completed, including the revitalization of the entire streetscape. There are now more people working in Larkinville than during the heyday of the historic Larkin Company.
A sample of the new retail and culinary businesses in the neighborhood include the Hydraulic Hearth restaurant and brewery, Flying Bison Brewing Company, Buffalo Distilling Company distillery and cocktail bar, The Filling Station restaurant and many more under development. Furthermore, our free events at Larkin Square have provided a fertile ground for entrepreneurs to start small businesses including dozens of Food Trucks.
A LOOK AHEAD:

The momentum continues in Larkinville. Here are some projects we have in the works during the next 3-4 years: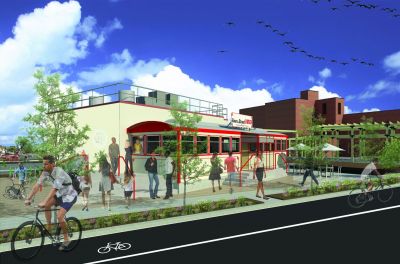 The Swan Street Diner  The Swan Street Diner, a 1937 fully restored Sterling Diner, rolled into Larkinville next to the Hydraulic Hearth in May, and will be open for service in September 2017.

Live/ Work Buildings  Plans are underway for additional live/work spaces on Seneca Street near Smith Street with the construction of a series of buildings with retail on the first floor and residential on the second and third floors, targeting Fall 2019 occupancy.

A New Emerson Culinary and Hospitality School
As the Buffalo Public School Board (BPS) considers a location and developer for a new Emerson Culinary and Hospitality High School, the BPS Board is considering Larkinville as a location. As Larkinville is now an epicenter for restaurants and events, the students can benefit from working with the businesses as interns and on special projects. Between the restaurants that we operate and the relationships we have with the food trucks and other professionals in the culinary and tourism sectors, we would bring added value and mentoring to the students and teachers at the school.Our proposal also includes support from businesses with headquarters in Larkinville who are interested in mentoring students in their areas of expertise. For example, mentorships can be offered through KeyBank on financial services, while SelectOne can provide programs on job readiness.There is also a built-in market (through visitors and tenants of Larkin Square and the Larkin at Exchange Building) to support students in developing their own events and trying their hand at small business and life skills before they graduate.A new custom designed school building would allow the district to have the exact layout that works well for students and the unique programming components of the school. Our proposed 80,000 sq. ft. site in Larkinville at Smith, Exchange and Seneca Streets offers a campus opportunity on a shovel ready site, with room for future programming expansion, such as the addition of a gymnasium and food gardens. There is excellent public transportation access with direct bus lines to the east side, South Buffalo, North Buffalo, the west side and downtown. Being located on the east side and and the gateway to South Buffalo would allow the district to place a high school in an area of Buffalo that does not have other high schools. In addition to the many thousands of employees working here, Larkinville is close to Tesla Solar City, the Cobblestone District, the Central Terminal, Seneca Babcock and the Broadway Fillmore neighborhoods. There is also a built-in customer base to patronize the dining and banquet facilities.

As a destination, our proposal includes free parking for patrons of the restaurant and banquet facilities. The design of the school includes an outdoor courtyard, allowing students to enjoy a campus atmosphere. Students and staff will also be able to take advantage of Larkin Square's current and future amenities all year long.
111 Hydraulic Street This site is located in between the proposed Emerson School and Larkin Square. This year we will be issuing an architecture competition for over 100,000 sq. ft. of retail, commercial, and residential to be built on this site with a completion by Fall 2021.
Public Park Space  The development of the former Ameripride site, next to Flying Bison Brewery, will include recreational amenities such as tennis, basketball, volleyball and a running track available to be enjoyed by those who live, work, visit or attend school in the neighborhood by Fall of 2020.
Larkin Lanes  The development and return of the former neighborhood bowling alley at the corner of Seneca and Griffin Streets.  This long abandoned building will have a new chapter as a refurbished bowling alley and eatery with a fall 2020 completion date.
Larkin Men's Club This historic building, once a social hall for the Larkin Soap Company, located behind the fire station, will be redeveloped into commercial and residential space by fall 2019.
We are proud to call Larkinville home for our company headquarters. Many of our team members and employees of fellow Larkinville companies also live in the neighborhood. Entrepreneurs continue to open businesses here in a neighborhood that is both a national and local model for urban planning and redevelopment. We will be in the neighborhood for generations to come and it's going to be an exciting few years as Larkinville and the east side continue to grow.