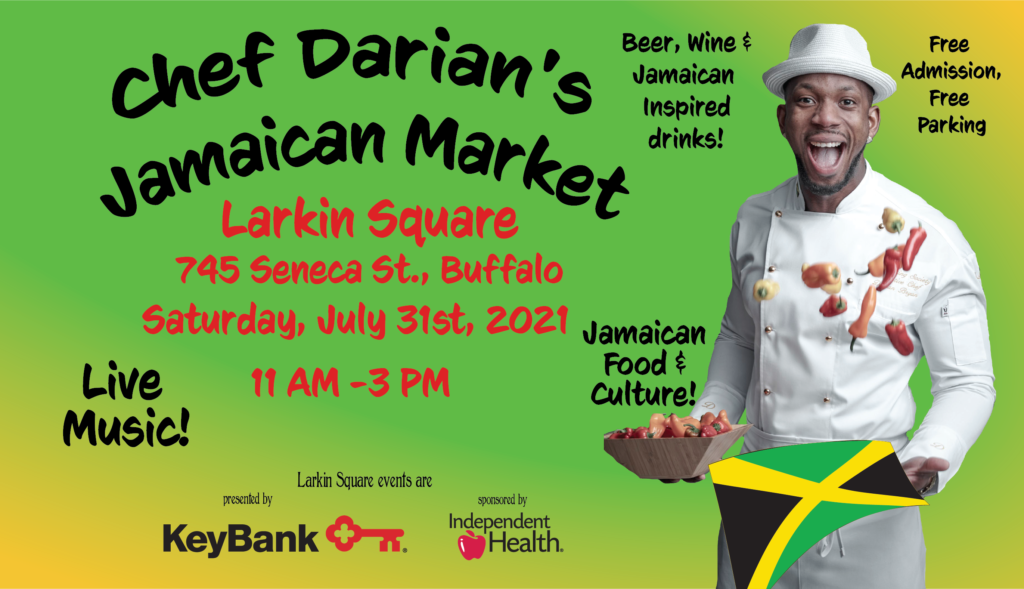 Chef Darian Bryan has become well known for his fine dining and dinner party scene in Buffalo but he has not forgotten his Jamaican roots that triggered his love for food. He is presenting Chef Darian's Jamaican Market in Larkin Square on Saturday, July 31st from 11 am – 3 pm. Inspired by the Toronto GRACE Jerk Fest, the Larkin Square Market will feature Jamaican food, Culture, live music and vendors.
Market Highlights:
Food:
Chef Darian's "Jerk Hut" featuring colossal Jerk Lobster Tail, spice filled Rasta pasta and Jerk Chicken. Other food vendors include
La Verdad,
KT Caribbean Cuisine
Chef Krista Van Wagner
Beverages:
Larkin Square will be featuring a Jamaican Rum Punch and Red Stripe Beer.
Additional Vendors
BFS Apparel: featuring a special line collaboration with Chef Darian.
GoldenFly Candles
Meat and Eat Charcuterie: featuring mini Jamaican themed cups
Smitas Cookery Spices
Green Eats: caribbean inspired fresh juices
Knotty Buffalo: custom yarns
Aurora Treasures: Jamaican inspired jewelry
Black Monarchy Clothing
Sweet Pea Bakery: Jamaican inspired desserts
Color Me Happy Balloon Co: featuring a photo backdrop set with Jamaican inspired decor
Chrusciki Bakery: Jamaican pierogies!
Culture
Attendees will enjoy a Jamaican Culture Tent, run by Chef Darian's sister Sherece Lewis and family, with fun educational games about Jamaican history and celebrities. Learn about Jamaican fruits and vegetables, make Jamaican bracelets and take-home Jamaican coloring sheets. 

Music
Interactive drumming circle for all ages at 11:15am with Carolyn Zimmerman from Drum 4 Health
Live music from Olmstead Dub a local reggae band from 1-3pm
"The amount of Buffalo love and culture that has been shared with me during the past 9 years has inspired him to share the love and culture back," said Chef Darian Bryan, "I wanted to bring Jamaica and its rich culture right to Buffalo for all to enjoy."

Chef Darian's Jamaican Market is a rain or shine event. Masks are to be worn by guests who are not vaccinated.
The Market is presented by KeyBank and sponsored by Independent Health.