Join us for a very special edition of the Larkin Square Author Series, Presented by First Niagara and Sponsored by Independent Health, as we welcome Clint Hill and Lisa McCubbin to Larkin Square on Thursday May 12th at 5:30 pm.
Clint Hill and Lisa McCubbin are the co-authors of the new book, Five Presidents My Extraordinary Journey with Eisenhower, Kennedy, Johnson, Nixon and Ford (Gallery Books, May 2016). Clint Hill brings to life the extraordinary moments in history he experienced during his career as a U.S. Secret Service Agent to five U.S. Presidents. Mr. Hill pulled Jackie Kennedy from the Limo when President Kennedy was shot. He documented his time with Mrs. Kennedy in his NY Times bestseller, Mrs. Kennedy and Me.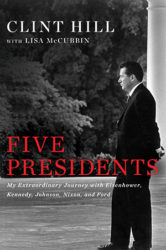 At times poignant and startling, some of his stunning, never-before-revealed anecdotes in his new book include:
The night Hill surreptitiously removes a dead body while on duty.
President Johnson's fears following the assassinations of Martin Luther King, Jr. and Robert Kennedy
President Johnson's virtual imprisonment in the White House during violent anti-Vietnam protests.
The Nixon White House insisting Hill assign a specific Secret Service agent to Senator Edward Kennedy, presumably in an effort to get personal information leading up to the 1972 election.
Nixon's reckless excursion to the Lincoln Memorial in the midst of a massive anti-war protest.
Hill's view as Watergate unfolds—and his knowledge of Nixon's secret taping system.
Unique insight of the Secret Service and how it has transformed to adapt to ever increasing threats.
Books will be available for purchase from Talking Leaves, along with beer, wine and light fare from The Filling Station. For more about Larkin Square including upcoming author talks, please visit our author page.