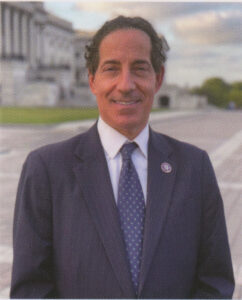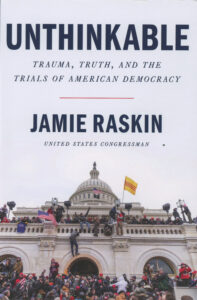 The Larkin Square Author Series welcomes Maryland Congressman Jamie Raskin speaking about his #1 New York Times bestselling memoir UNTHINKABLE: Trauma, Truth, and the Trials of American Democracy. Congressman Raskin will be joined in conversation by his friend and colleague Western New York Congressman Brian Higgins.
The event will take place on Sunday, August 14th from 4:30 PM – 5:30 PM.
In his memoir, Congressman Raskin tells the story of the unimaginable convergence of his public and private life when his son, Tommy Raskin, tragically took his own life after a long struggle with depression on December 30, 2019.  Seven days later, January 6th, 2021, Congressman Raskin returned to the House of Representatives to certify the 2020 presidential election when violent insurrectionists stormed the Capital, hoping to overthrow the election.  Following the uprising, Congressman Raskin, a constitutional law professor, was appointed to lead the impeachment effort against President Trump.  In his book he shares the grief of losing his son along with an inside account of leading the team that prosecuted President Trump.
We thank Congressman Higgins for inviting Congressman Raskin to Buffalo and to speak in Larkin Square, this is sure to be a lively and moving discussion on both politics and family.
The talk is free, no tickets needed.  Books will be available for purchase at the event by Talking Leaves. Signing to follow the talk.
Larkin Square events, including the author talks, are presented by KeyBank and sponsored by Independent Health.