Enjoy a french inspired evening at the Larkin Square Author Series as we welcome to Larkinville, Buffalo native, Elaine Sciolino. Elaine is the author of the new book, The Only Street in Paris: Life on the Rue des Martyrs  (W.W. Norton Co., 2015).
Sciolino will be speaking on Monday, November 30th at 5:30 pm, her talk will include book sales ( by Talking Leaves)  and signing. French inspired treats will be available for purchase by the Filling Station. The series is presented by First Niagara and Sponsored by Independent Health. Talking Leaves co-sponsors the Author Series. Alliance Française de Buffalo joins us in co-sponsoring Sciolino's talk.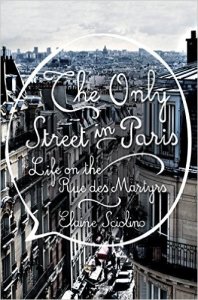 Sciolino, the  former Paris Bureau Chief for The New York Times, has been based in France since 2002. She writes the "Letter from France" column for the The New York Times "T," the style magazine, and contributes stories to the Food, Culture, Styles and Sunday Review sections.
Her previous book, La Seduction: How the French Play the Game of Life, was published by Henry Holt/Times Books in 2011 and was named one of the best books of 2011 by The New York Times T Magazine.
Her book, Persian Mirrors: The Elusive Face of Iran, was first published by The Free Press in 2000 and updated in a new edition in 2005. Persian Mirrors was awarded the 2001 New York Public Library Helen Bernstein Book Award for Excellence in Journalism and the Overseas Press Club Cornelius Ryan Citation for nonfiction. It was also a History Book Club selection and a New York Times Notable Book for 2000.
Her first book, The Outlaw State: Saddam Hussein's Quest for Power and the Gulf Crisis, was published by John Wiley & Sons in 1991 and was a Book-of-the-Month Club selection.
Sciolino began her journalism career as a researcher at Newsweek Magazine in New York, later becoming national correspondent in Chicago, foreign correspondent in Paris, bureau chief in Rome and roving international correspondent. Sciolino was the Edward R. Murrow Press Fellow at the Council on Foreign Relations in 1982-1983, the first woman to receive that honor.
She joined The New York Times in 1984, where she has held a number of posts, including United Nations' bureau chief, Central Intelligence Agency correspondent, Culture correspondent and chief diplomatic correspondent – the first woman to hold that post – and Paris Bureau Chief. She has also served as The New York Times' European investigative correspondent with responsibility for coverage of terrorism in Europe and Iran's nuclear program.
Sciolino grew up in Buffalo and graduated summa cum laude from Canisus College. She continued her studies receiving a master's degree in European History from New York University.
Join us in welcoming Elaine Sciolino to Larkinville!