The Larkin Square Author Series is pleased to partner with the JCC Book & Arts Fair to welcome Ethan Cox to speak in the Hydraulic Hearth beer garden (716 Swan St.) on Monday, June 13th from 5:30 pm to 7:30 pm.
Ethan is the president of Community Beer Works, one of Buffalo's most innovative craft brewers in Buffalo. In addition to their headquarters on Niagara Street, Community Beer Works also brews on location at the Hydraulic Hearth.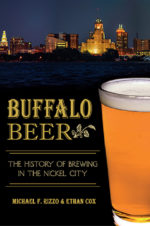 Ethan will be speaking about his book (co-authored with Michael Rizzo) Buffalo Beer: The History of Brewing in the Nickel City- The story of the Revitalization of the Craft Beer Industry.  He will also speak about the rapid growth of craft breweries in western New York.
The beer taps run directly to the outdoor bar in the Hydraulic Hearth Beer Garden, we can't think of a more refreshing way to learn about the history of Beer in Buffalo!
Amy's Food Truck will be serving food. The Hydraulic Hearth will be pouring house-brewed Community Beer Works along with other beverages. The event is free and open to the public.
The Larkin Square Author Series is presented by First Niagara and sponsored by Independent Health