Like the reappearance of robins, the sight of food trucks filling Larkin Square is one of the first signs of springtime in Buffalo. This year, "Buffalo's biggest dinner party" will once again begin earlier than ever, as Food Truck Tuesdays return to Larkinville for another six-month season starting April 11th. Admission and parking are free thanks to the generous support of presenting sponsor KeyBank and sponsor Independent Health.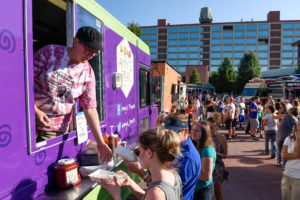 Every Tuesday, from 5-8pm, into October – with the exception of July 4th – Larkin Square will welcome dozens of food trucks and a diverse lineup of live, local music (see below for full food truck and music lineup). Beverages will be sold onsite, with colorful seating and hula hoops spread around the square; guests are welcome to bring their own seating. Each truck will offer at least one item certified as a Healthy Option by the Independent Health Foundation. The 2017 season welcomes a roster of more than 50 food trucks, 15 of which are new to the street since last season (full list below). Each week, Larkin Square will host up to 28 food trucks with additional trucks parked at Flying Bison Brewery (840 Seneca Street) in Larkinville. To round out the neighborhood-wide "dinner party," the Hydraulic Hearth Restaurant & Brewery (716 Swan Street) will welcome diners to bring food purchased from the trucks into their beer garden, as will BFLO Distilling Co. (860 Seneca Street) in their newly-opened tasting room. With trucks driving from as far as Rochester, the wide variety of food and range covered by the fleet of trucks have helped the event become one of the largest and longest-running food truck events in the country.
With a 25-band live music lineup that jumps between genres each week, the majority of the musicians will make their Larkin Square debut, as upstarts such as Alex McArthur and Jacob Peter along with veterans including Nikki Hicks and Son Boricua join perennial favorites from The Rockaz to Zak Ward.
2017 Food Truck Tuesdays Roster of Participating Trucks (trucks listed in italics with a * are new to Food Truck Tuesdays: Amy's Truck, Abbott's Frozen Custard, Antones at the Fair, Carniverous *, Center Street Smokehouse, Cheesecake Guy *, Cheesy Chick, Chef's Catering/ Chef's Mobile Kitchen, Crusin Crepes, Dirty Bird Chicken and Waffles, Eat Greek (Sonny's Landing) *, Flaming Fish, Frank Gourmet Hot Dogs, #Get Fried *, Gourm-Asian Buffalo, Great Foodini, Green Acres Ice Cream *, Hawaiian BBQ, Healthy Scratch *, House of Munch, J&L BBQ, Jimmy Z's *, Just Pizza, Kona Ice, Le Petit Poutine, Lloyd, Lomo Lomo, M & S Street Eats, Macarollin', Maria's Bene Cibo *, OG Wood Fire, Pizza Amore, Polish Villa, R&R BBQ, Rob's Kabobs *, Rolling Cannoli *, Rudy's Kitchen* Ru's Pierogis *, Sassi Cakes, Smoothies Plus, Street Cafe, Sweet Hearth, Sweet Melody's, Taffy's, Ted's Hot Dogs, Thai Me Up, The Great Aussie Bite *, The Meatball Truck Co., The Salad Bar*, Tuk Tea, Tuscan Wood Fired Pizza, Whole Hog, You Crack Me Up *
2017 Food Truck Tuesday Live Music Lineup (artists with a * are making their Larkin Square debut)
4/11 – The Rockaz
4/18 – Bruce Wojick & the Struggle*
4/25 – 4 B-LO
5/2 – Sharon Bailey Project*
5/9 – Lindsey Holland Quartet*
5/16 – The Kensingtons
5/23 – Nikki Hicks & Momma's Biscuits*
5/30 – Son Boricua*
6/6 – Folkfaces
6/13 – Alex McArthur Sextet*
6/20 – Rust Belt Birds*
6/27 – Shaky Stage
7/4 – No Food Truck Tuesday
7/11 – Will Holton
7/18 – The Outlyers*
7/25 – Carol McLaughlin Quintet
8/1 – Rear View Ramblers
8/8 – Jacob Peter Band*
8/15 – Larry Salter Soul Orchestra
8/22 – The Abruptors*
8/29 – Jeremy Keyes Band*
9/5 – Flashback*
9/12 – Tommy Z Band*
9/19 – Dee Adams Band
9/26 – Q Phunk*
10/3 – Zak Ward Band