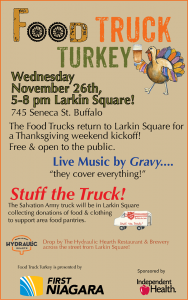 Join us for the First Annual Food Truck Turkey- an event that takes a wild spin on the traditional Thanksgiving!
The event takes place Wednesday, November 26th, 2014 from 5-8 pm in Larkin Square. Kick off the Thanksgiving weekend with dinner from all your favorite food trucks and live music from "Gravy"….they cover everything!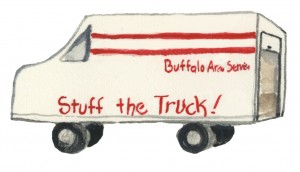 The Salvation Army Truck will be at Larkin Square collecting donations of food and clothing to support area food pantries. They will be accepting donations of any non-perishable goods as well as frozen turkeys. Join us to "stuff the truck!"
This is a very popular event, so be sure to look for free parking in the Larkin Development Group lots, including the ramp behind Larkin Square.
The newest restaurant in Larkinville, the Hydraulic Hearth Restaurant and Brewery will also be open that night from 4:30pm – 11pm- drop by for a drink afterwards!
Don't forget to RSVP on Facebook!
Feel welcome to bring a folding chair or picnic blanket! Sorry, no pets are allowed.