Continuing a tradition that dates to its inaugural year, Larkin Square, along with First Niagara and Independent Health, will again welcome the community for a free wintertime concert on its covered, heated boardwalk, headlined by the original holiday music of local collective Robot Holiday.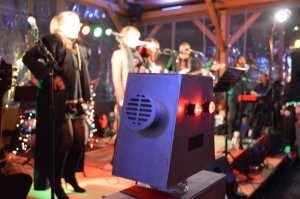 The 4th Annual Holiday Live at Larkin will take place on Friday, December 4th, from 4:30-8pm and will feature holiday favorites from The Tins as well as a rocking 2 hour set from Robot Holiday.
Over 15 food trucks will return to the Square serving hot eats and holiday cheer and the market stalls will be full of market vendors vending everything from handmade stationery (CDesigns) to quirky Christmas ornaments (Devil Chicken Design) to made-to-order donuts (Duke's Donuts). In addition to beer and wine from the grill, Kornerstone Coffee will also be serving up hot coffee, hot chocolate and more! Elizabeth Gurney will be selling her yearly special: homemade granola. All vendor fees, Robot Holiday CD sales, and granola sales will benefit the Food Bank of WNY. The Salvation Army will also be present, collecting used clothing and jackets for the holiday season.
See you there!
For more information about Robot Holiday, visit www.robotholiday.com; for more about Larkin Square including booking for private holiday events, visit larkinsquare.com.