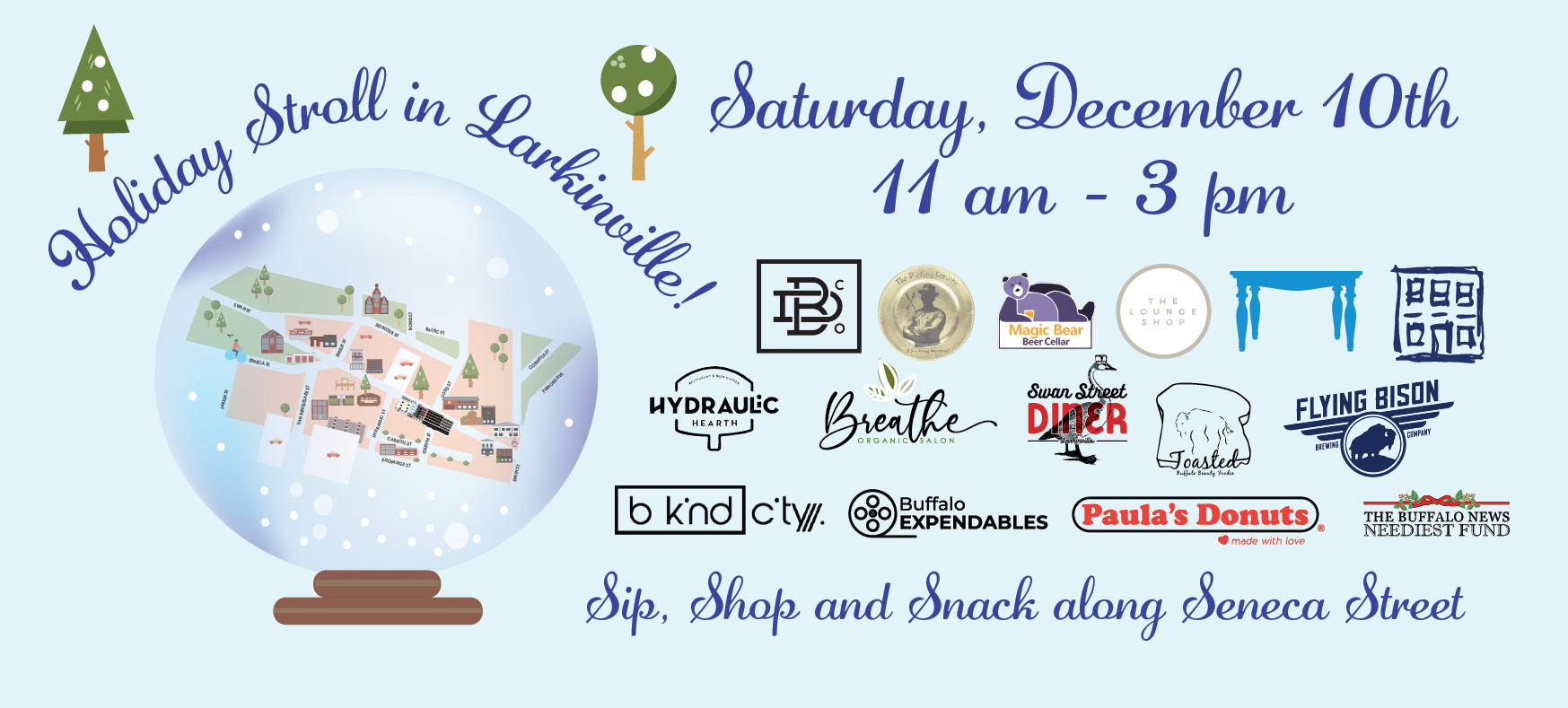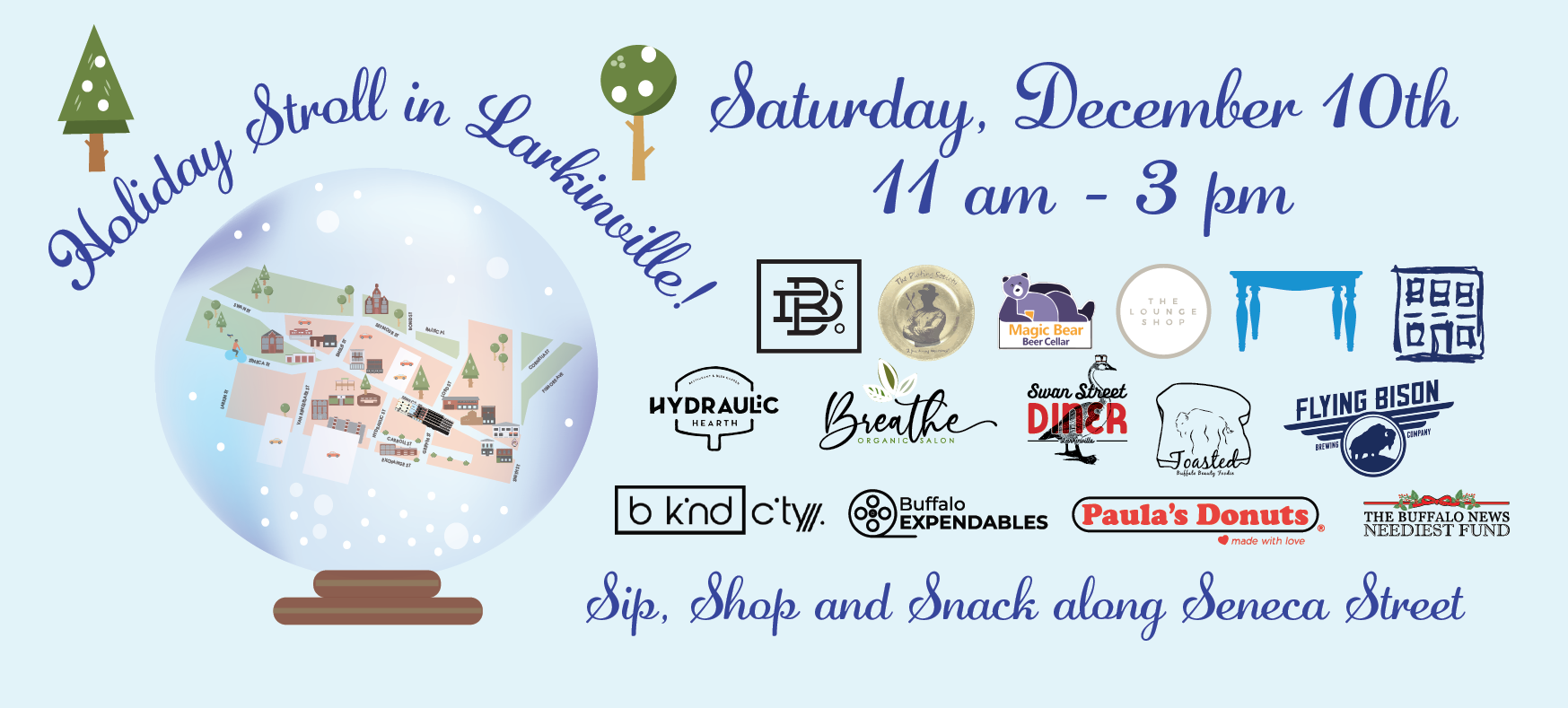 Larkinville is growing with many new stores recently opened.  We want to celebrate with you this season!  Join us for a Holiday Stroll in Larkinville on Saturday, December 10th from 11 am – 3 pm, with extended hours at many of the venues. Shop, sip and snack at more than a dozen Larkinville stores, breweries, distilleries and restaurants.  Find pop-up artisan markets, holiday specials, and festive holiday cheer along Seneca Street in Larkinville.
Here is a list of Special holiday happenings during the stroll.  Some venues open as early as 7 am (Toasted, Swan Street Diner and Paula's Donuts) and some venues will be open evening hours as well. Larkin Square ten year anniversary totes will be given out at participating venues (while supplies last).
Join Larkin historian Chris Hawley at 11 AM on the 10th for a free guided walking tour of the historic Larkin District, aka "Larkinville". Meet up with Chris in front of Larkin Square at 745 Seneca Street. No reservations needed.
Starting from Seneca Street, near Fillmore Avenue on down to DiTondo at 370 Seneca Street, take a holiday stroll through Larkinville! There is plenty of free parking along Seneca and side streets as well as a parking lot at Seneca and Hydraulic Street, Paula's Donuts and the lot at Seneca and Emslie Street, plus any of the lots along Exchange Street.
Space on Seneca, 867 Seneca Street: Featuring a holiday pop- up with Space on Seneca yoga merch., Undergrounds Coffee, Anastasia's Bread, and @Buffalovenotes.
bkindcity, 871 Seneca Street: bkindcity features "East Coast street style meets West Coast vibes" with their feel good/ feels good unisex apparel brand. Lots of options for holiday gifting. Enjoy a "sneak peek" opening at the Holiday Stroll!
Paula's Donuts, 872 Seneca Street: Take a holiday photo next to Donut Girl! Featuring the Holiday Stroll special, buy any drink and get a free donut.
Buffalo Distilling Company, 860 Seneca Street: Bar room and still house, distilled in Larkinville.  Enjoy a cocktail at their bar or buy a bottle for a holiday gift.
Flying Bison Brewing Company, 840 Seneca Street: Artisan Holiday Market, 11 am – 4 pm featuring charity cookie sale (to benefit Matt Urban Human Services), local gift market and a visit from Santa.
Breathe Organic Salon, Millrace Commons, 799 Seneca Street: In addition to a haircutting, styling and coloring salon, their shop features a full line of Organic Products from O-Way.  Offering organic gift collections by hair type.
Buffalo Expendables, Millrace Commons, 799 Seneca Street: Providing quality products for film, television and stage. In addition their shop features some creative offerings for gift giving. For the Holiday Stroll featuring special gift packages and discounted mystery gifts.
The Lounge Shop, Millrace Commons, 799 Seneca Street: Open 10:00am-4:00pm selling everyday basics + Buffalo loungewear, gifts and more. During Holiday Stroll will be hosting a pop-up with Iolite & Lava Handmade Clay Earrings along with Letterwood Co. creating custom ornaments while you shop!  They will have some light beverages (sparkling water, fruit water, etc.) and a holiday sale going on in the store.
Blue Table Chocolates, Millrace Commons, 799 Seneca Street: Newly opened featuring artisan made chocolates and chocolate collections. Lots of gifting options!
Toasted Buffalo, Millrace Commons, 799 Seneca Street: Featuring artisan coffees and teas, toasts with toppings, smoothies and more! 
Magic Bear Beer Cellar, Millrace Commons, 799 Seneca Street: Beer store and tasting room. Enjoy sip and shop with $5 beermosas, mimosas and bellinis. During Holiday Stroll From noon to 3 pm, featuring a pop-up market with Molly's Elderberry Syrup, Ayden Rose Boutique and the Pierced Buffalo.
Plating Society, Millrace Commons, 799 Seneca Street: Stop by to see their amazing private dining space and pick up some to go holiday food. During Holiday Stroll, The Plating Society will be offering BUTTERNUT SQUASH SOUP: $6.50, JAMAICAN CHICKEN SOUP: $6.50, CURRY CHICKEN SALAD SANDWICH: $8.50
SOUP & SANDWICH COMBO: $14, RASTA PASTA: $15 and CHICKEN RASTA PASTA: $18
Hydraulic Hearth Restaurant, 716 Swan Street: (opening at 4 pm) offering an array of merch, bottled cocktails and beer and gift cards for holiday gifting along with all their delicious food, drinks and craft cocktails for dining in or take out. Private event bookings available as well
Swan Street Diner, 700 Swan Street: open 7 am – 3 pm.  Stop by for breakfast or lunch during your holiday stroll.  Offering house made holiday cookie boxes, merchandise and gift cards for holiday needs. Private event bookings available as well.
Buffalo News Neediest Fund, 726 Exchange Street lobby (corner of Exchange and Van Rensselaer Streets).  Drop off an unwrapped toy for a child in need to the Buffalo News Neediest toy collection drive.
DiTondo  370 Seneca Street: from 11 AM – 3 PM open for lunch, snacks, coffees and drinks along with holiday shopping at their market stocked with Italian specialty products and artisanal panettone.