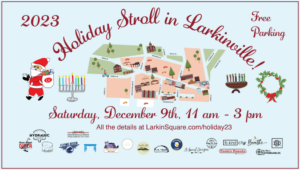 Take a Holiday Stroll through Larkinville on Saturday, December 9th from 11 AM – 3 PM with some venues starting earlier and some running later into the evening. Find holiday fun for every age with pop-up holiday markets at many venues!  Enjoy carolers throughout the neighborhood, led my favorite Larkin Square vocalist Alex McArthur (noon – 3 pm). Bring your kids for a meet up with Santa at the Hydraulic Hearth Holiday Garden from 11:30 am – 1:30 pm
Consider bringing an unwrapped toy to donate to a child in need.  Collection site for the Buffalo News Neediest Fun Toy Drive is in the Larkin at Exchange Building Lobby, 726 Exchange Street. Toasted Buffalo is also collecting toys for the Oishei Children's Hospital.
Take a holiday walk through Larkinville!  Here are more details on what to find at the Holiday Stroll in Larkinville.
Heading west to east along Seneca Street: 
Hydraulic Hearth Restaurant and Beer Garden: Meet Santa in the Hydraulic Hearth Holiday Beer Garden (716 Swan Street) from 11:30 am – 1:30 pm. Inside the Hearth will be a pop- up Market featuring local artisans, including Leslie Zemsky selling her Buffalo Bills themed merch in support of Harvest House Buffalo.
Swan Street Diner, 700 Swan Street: open 7 am – 3 pm.  Stop by for breakfast or lunch during your Holiday Stroll. Diner gift cards and merch make great holiday gifts!
Bratts Hill by Chef Darian Bryan , Larkin Square, 745 Seneca Street. During the holiday stroll, they will be offering their popular Jerk Hut menu along with an author signing for the childrens' book " The Magical Chef's Fedora" by Sherece Lewis.  Bring your receipt from any of the participating Holiday Stroll vendors and receive 10 percent off your Jerk Hut food purchase!
Eckl's at Larkin, 701 Seneca Street. Opening early at noon for the Holiday Stroll. Stop by for a festive lunch.
Millrace Commons, 799 Seneca Street:
Magic Bear Beer Cellar, Millrace Commons, 799 Seneca Street: Beer store and tasting room.  Magic Bear will be presenting a pop-up artisan's market during the Holiday Stroll along with $5 brunch drink specials.
Blue Table Chocolates, Millrace Commons, House-made artisan made chocolates and chocolate collections. Lots of gifting options! Stop by for a free sample during the Holiday Stroll. They will be selling seasonal specials such as   Hanukkah Gelt , Chocolate Christmas ornaments (filled with edible goodies), and their Chocolate centerpiece trees as well.  
LE 3 inc, Millrace Commons, Larkinville's newest daycare site will be hosting a book fair with children's books for sale, free holiday crafts for the kids. They will be selling roast beef, mac n cheese and chili!

The Lounge Shop, Millrace Commons, For the Holiday Stroll, they will have new holiday apparel, holiday home decor and refreshments for customers who stop by.

Breathe Organic Salon, Millrace Commons, Full service salon featuring Organic Products from O-Way. During the holiday stroll  they will be offering a Gift Card promo – every $50 spent is a free $10 added on. They will have discounted products for sale, and a pop-up featuring locally made artisan jewelry.
Buffalo Expendables, Millrace Commons, Providing quality products for film, television and stage. In addition their shop features some creative offerings for gift giving. 
Toasted Buffalo, Millrace Commons, Featuring artisan coffees and teas, toasts with toppings, smoothies and more! They will be offering holiday menu items as well as holding a toy drive for Oishei Children's Hospital. The drive begins on Friday, December 1st and ends on Sunday, December 10th! Please bring an unwrapped toy to donate.
Continuing along Seneca Street:
D.A. Taste 864 Seneca Street: Now open in Larkinville!. During the Holiday stroll, be one of the first to try Da Taste Tacos and more in their new home on Seneca Street next to Paula's Donuts. 
Paula's Donuts, 872 Seneca Street: During the Holiday Stroll enjoy a free donut with the purchase of any beverage. Rumor has it that Santa might be stopping by Paula's as well during the Stroll!
Flying Bison Brewery 840 Seneca Street: For the Holiday Stroll Flying Bison is hosting their annual Holiday Market, featuring 10 local vendors offering lots of great gifts and stocking stuffers. Enjoy live music by Leroy Townes band from 4 pm – 7 pm
bkindcity, 871 Seneca Street: bkindcity will be offering peppermint chaga hot chocolates and the owner of Life Itself, the chaga mushroom company will be at their store doing a pop up.  B Sweet Designs Opening soon at Millrace Commons, will have a one day-pop up offering sweet treats for you to purchase and take home. Also offering complimentary holiday gift wrapping.
Buffalo Distilling Company, 860 Seneca Street: Bar room and still house, distilled in Larkinville. They will be open at 12 noon during Holiday Stroll with Holiday Piano by Billy Barou from 1-3pm. Their shelves will be stocked with holiday cheer and stocking stuffers.
Space on Seneca, 867 Seneca St, During the Holiday Stroll shop from Meet and Eat Charcuterie (opening soon at Millrace Commons) along with other artisan vendors.