We are pleased to welcome writer Josh Horwitz to the Larkin Square Author series on Wednesday, November 5th. Josh is coming to Buffalo from Washington DC.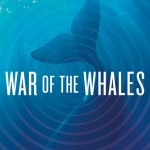 His new book War of the Whales  (Simon & Schuster, July 2014) is the gripping tale of a crusading attorney who stumbles on one of the US Navy's best-kept secrets: a submarine detection system that floods entire ocean basins with high-intensity sound—and drives whales onto beaches. As Joel Reynolds launches a legal fight to expose and challenge the Navy program, marine biologist Ken Balcomb witnesses a mysterious mass stranding of whales near his research station in the Bahamas. When Balcomb and Reynolds team up to expose the truth behind an epidemic of mass strandings, the stage is set for an epic battle that pits national security against the need to safeguard the ocean environment.
Join us as Josh speaks at 5:30 pm. Doors open at 4:45 pm for sale of refreshments and light fare along with books.  The event is co-sponsored by Talking Leaves. It is presented by First Niagara and sponsored by Independent Health.  Josh's talk is free and open to the public.