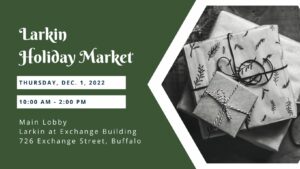 Stop by the Larkin at Exchange Building on Thursday, December 1st from 10 a.m. to 2 p.m. to shop from more than 30 artisan vendors at the annual Larkin Holiday Market. This popular event will take place in the main lobby and throughout the first floor of the building.
Admission to the Holiday Market is free and plenty of free parking is available in the surface lots on Exchange Street. Visitors are welcome to park in any of the Larkin Development Group lots on Dec. 1. Please note that the vendor list is subject to change.
Guests of the Holiday Market are also encouraged to bring a new, unwrapped toy (age range newborn to 12 years) for the News Neediest Toy Drive that has found a new home in Larkinville! Items can be left under the beautifully decorated Buffalo News trees in both of the Larkin at Exchange Building lobbies.
Stop by for something to eat before or after you shop at the Chautauqua Cafe (inside the Larkin at Exchange Building), The Swan Street Diner (700 Swan Street), Toasted (799 Seneca Street) and Paula's Donuts (872 Seneca Street)
Vendors scheduled to participate in this event include:
Adam Zyglis
Adam's Apples
Buffalo Artisan Food Traders
Catch a Falling Jar
Coots Woodworks
DMG Buy Products
Donna's Pepper Jelly & Jams
DragonFly Jams & Jellies
Feel Good Greetings Ink
Forest Crossing Friends
Frontier Soups
Honeygirl Ornaments
InspireHerMore Jewelry
Jazzy Buffalo Creations
Joseph Hubert Photography
Joyfulenergy Jewelry
Just Sew Embroidery
Kissed by the Sun Spice Company
Kreations with Heart
Lilla Rose Hair Accessories
Magic Bear Beer
My Buffalo Shirts
Natalie Rae NY
Pamcrafted Memories
Park Edge Sweet Shoppe
Pet Connection Programs Inc.
Predmore Creations
Silver Lining Jewelry
Sunrae Love Jewelry
Sunshine Art Designs
Sweet Em's Cake Boutique
The Buffalo News Store
The Drunken Candle Shop