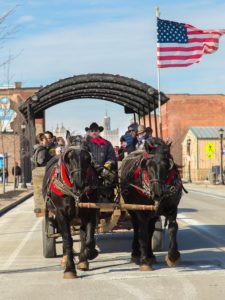 Third Annual Larkinville Ice Festival
Saturday, January 28th, 11am – 3pm
Join us on Saturday, January 28th, from 11am – 3pm for the Third Annual Larkinville Ice Festival! Kick-off the New Year with a day of winter fun at this neighborhood-wide celebration, including programming at Larkin Square, the Filling Station, the Larkin Center of Commerce, Flying Bison and Buffalo Distilling Company.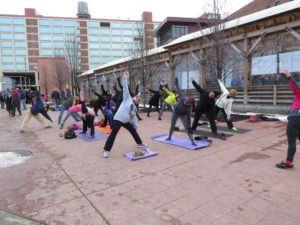 The Boardwalk at Larkin Square will feature a variety of family friendly activities including a sledding hill, face painting, kan-jam, spin art and other games from Nickel City Novelties. After the games, browse our winter holiday market or grab some food from Amy's Place or Sassi Cakes trucks or inside the Filling Station Restaurant. Guests can also warm up with a session of "Snowga," a special Independent Health sponsored session of Fitness in the Parks, or a game of hockey on the Keybank ice rink. Be sure to also take a seat on our ice throne for the perfect winter photo op! 
Across the street, Hydraulic Hearth will be open for Bagels and Brooze from 10:30am – 2:30pm and a Bavarian Winterfest presented by Jägermeister from 4 – 8pm. Be sure to stop into (716) GAL-LERY, Buffalo's smallest art gallery, while you are at Hydraulic Hearth from the opening of an exhibition by local artist Adam Weekley. In the evening, Hydraulic Hearth will also host the Buffalo Black Book Magazine Winter Issue Release Party beginning at 8pm with Half and Half Pop-Up Shop, and Specialty Cocktails. Take advantage of free horse-drawn carriage rides from the Larkin Center of Commerce to bring you down the street for more winter fun! Flying Bison Brewing Company will feature ice carvings and a visit from groundhog Buffalo Mack and Buffalo Distilling Company will also be open for tastings to warm you up before the Snow Roll departing at 12:30pm.
A full list of programming is below, stay tuned for updates. As always, Larkin Square has free event parking and this event is free and open to the public courtesy of presenting sponsor KeyBank and sponsor Independent Health. Snowga is a winter edition of Fitness in the Parks presented by the YMCA and Independent Health.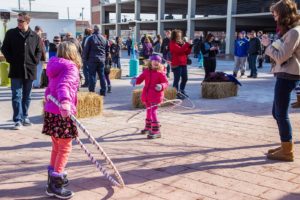 Larkinville Ice Festival Timeline of Events
Saturday, January 28, 2017
Larkin Square (745 Seneca Street)
Programming from 11am – 3pm
Ice Throne
Sledding Hill
Nickel City Novelties spin art and other games
Face Painting
Coloring Stations, Bubble Station
Pickleball, Kan-Jam, Cornhole
KeyBank sponsored hockey game
Independent Health, Fitness in the Parks sponsored Snowga (Yoga in the Snow): two 30 minute sessions at 11am & 12pm
Winter vendor market:

Thistle Creek Alpaca Farm and their Alpacas
TommyRotter Distillery
Mazureks
Kitch Studios
Dragonfly Jams & Jellies
LulaRoe

Food trucks: Amy's Truck & Sassi Cakes
Outdoor bar on the boardwalk
Filling Station restaurant open for lunch indoors
Performers throughout the square from Bird's Nest Acro Circus.
Larkin Center of Commerce (701 Seneca Street)
Horse-drawn sleigh wagon rides up and down Seneca Street from 11am – 3pm
Hydraulic Hearth Restaurant & Brewery (716 Swan Street)
Bagels and Brooze with Breadhive: 10:30am – 2:30pm
Adam Weekley exhibition On the Line opening in (716) GAL-LERY: 10:30am – 2:30pm
The Bavarian Winterfest, sponsored by Jagermeister: 4pm – 8pm
Buffalo Black Book Magazine Winter Issue Release Party ~ M~A~G~I~C, Sponsored by Half and Half Boutique: 8pm – 11pm
Flying Bison Brewery (840 Seneca Street)
Brewery open 12pm – 8pm
Ice carvings
Appearance by Buffalo Mack, the mascot for local folklore around the upcoming Groundhog Day, at 2:00pm
Buffalo Distilling Company (860 Seneca Street)
Tasting room open 11am – 3pm
Buffalo Slow Roll's "Snow Roll" departs from Buffalo Distilling Co. at 12:30pm