We are thrilled to welcome best-selling author and Buffalo native, Lauren Belfer back to Larkin Square for the fourth consecutive May. Lauren will be speaking at the Larkin Square Author Series on Monday, May 16th from 5:30 pm – 6:45 pm.  Her talk will feature the Buffalo debut of her new novel and After the Fire.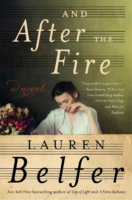 The New York Times-bestselling author of Buffalo set City of Light and A Fierce Radiance returns with a new powerful and passionate novel—inspired by historical events—about two women, one European and one American, and the mysterious choral masterpiece by Johann Sebastian Bach that changes both their lives.
Lauren is  a thoughtful and engaging  speaker. May 16th will be a memorable treat for guests.
In honor of this special event, Larkin Square will have the Grill open for dinner service before and after the talk. Music on The Boardwalk following the talk by the finalist on The Voice, Larkinville's own Keith Shuskie.  Enjoy a beautiful evening in Larkinville!  Books will be for sale at the event courtesy of Talking Leaves. A book signing will follow the talk.
The novel is already receiving rave reviews: "Writing about music is like dancing about architecture, the saying goes. If so, Lauren Belfer has pirouetted the New York skyline in and After the Fire" writes USA Today in a four star review.  "and After the Fire" is a bold and hugely ambitious novel with the transfixing appeal of a best-seller" writes Jeff Simon in the Buffalo News.
Larkin Square Author Talks are presented by First Niagara and sponsored by Independent Health.