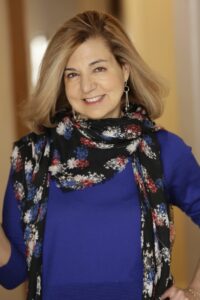 Buffalo native and best selling author Lauren Belfer returns to Larkin Square on Thursday, June 23rd at 5:30 PM to talk about her new novel, Ashton Hall.  Lauren will be in conversation at the event with Margaret Sullivan, columnist for the Washington Post and former managing editor of the Buffalo News.
Ashton Hall is about An American woman and her son as they stumble upon the dark history of a rambling English manor house in this gripping novel that marks an exciting new departure for the New York Times bestselling author of City of Light.

When a close relative falls ill, Hannah Larson and her young son, Nicky, join him for the summer at Ashton Hall, a historic manor house outside Cambridge, England. A frustrated academic whose ambitions have been subsumed by the challenges of raising her beloved child, Hannah longs to escape her life in New York City, where her marriage has been upended by a recently discovered and devastating betrayal.
Soon after their arrival, ever-curious Nicky finds the skeletal remains of a woman walled into a forgotten part of the manor, and Hannah is pulled into an all-consuming quest for answers, Nicky close by her side. Working from clues in centuries-old ledgers showing what the woman's household spent on everything from music to medicine; lists of books checked out of the library; and the troubling personal papers of the long-departed family, Hannah begins to recreate the Ashton Hall of the Elizabethan era in all its color and conflict. As the multilayered secrets of her own life begin to unravel, Hannah comes to realize that Ashton Hall's women before her had lives not so different from her own, and she confronts what mothers throughout history have had to do to secure their independence and protect their children.
Belfer has preciously spoken in Larkin Square about her best selling novels: City of Light, A Fierce Radiance, and and After the Fire.
Margaret Sullivan spoke in Larkin Square about her book, Ghosting the News.  Both Belfer and Sullivan appeared together in Larkin square for a conversation on writing.  We look forward to picking up the conversation where they left off for an engaging evening. Books, along with a signing, will be available for purchase at the event courtesy of Talking Leaves Books.
The Hydraulic Hearth Restaurant, located across the street from Larkin Square, will be open before and after the event. The event is free, no tickets needed.  Thank you to presenting sponsor KeyBank and sponsor Independent Health for brining fun and engaging events to Larkin Square all season long.