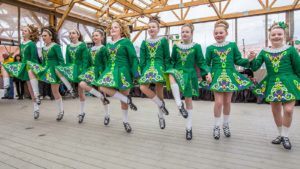 Join us in Larkin Square on Friday, March 17 from 5-8pm for the fifth annual KeyBank Live at O'Larkin!
For the first time in its five-year history, one of Buffalo's newest St. Patrick's traditions will fall on the actual holiday in 2017, as Larkin Square will again welcome the public to an Irish-American celebration with live Celtic music and dance along with food trucks and drinks.
This year, KeyBank Live at O'Larkin will feature the familiar faces of Celtic rockers McCarthyizm, traditional folk trio Emerald Isle, students from Clann Na Cara School of Irish Dance, and the first responders of Greater Buffalo Firefighters Pipes & Drums, all performing individual sets along with an encore ensemble jam on the square's covered and heated boardwalk. Drinks will also be served on the boardwalk and in the Square along with food from over a dozen food trucks.
As always, this family-friendly event is free, including free parking, and open to all, presented by KeyBank and sponsored by Independent Health.

Photo Credit: Don Nieman Buffalo.com