Bestselling author Mark Slouka returns to Buffalo and Larkin Square to speak about his new memoir Nobody's Son: A Memoir (W.W. Norton & Company; October 18, 2016) .  Mark first spoke in Larkin Square about his best selling, critically acclaimed novel, Brewster.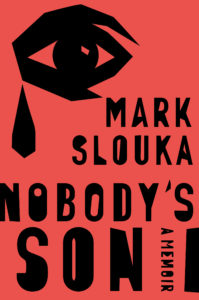 As noted on Mark's website: "Born in Czechoslovakia, Mark Slouka's parents survived the Nazis only to be forced to then escape the Communist purges after the war. Smuggled out of their own country, the newlyweds joined a tide of refugees moving from Innsbruck to Sydney to New York, dragging with them a history of blood and betrayal that their son would be born into.
From World War I to the present, Slouka pieces together a remarkable story of refugees and war, displacement and denial, admitting into evidence memories, dreams, stories, the lies we inherit and the lies we tell—in an attempt to reach his mother, the figure at the center of the labyrinth. Her story—the revelation of her life-long burden and the forty-year love affair that might have saved her—shows the way out of the maze."
Mark Slouka is the author of six books, both fictin and non-fiction. His stories have twice been selected for inclusion in Best American Short Stories as well as for the PEN/O.Henry Prize Stories, and his essays have appeared three times for Best American Essays. He was a finalist for the British Book Award for his novel The Visible World, and his collection Essays from the Nick of Time, received the PEN/Diamonstein-Speilvogel Award for the Art of the Essay. A Guggenheim and NEA fellowship recipient, he has taught literature and writing at Harvard, Columbia, and The University of Chicago. He lives with his family in Brewster, NY.
We are honored that Mark will join us in conversation with Jonathon Welch, owner of Talking Leaves books. The event begins at 5:30pm in the Filling Station with beer, wine, coffees, teas along with light fare available for purchase. Books for sale by Talking Leaves at the event. Book signing to follow the talk.
Larkin Square Author Series events are free, including parking, courtesy of presenting sponsor KeyBank and sponsor Independent Health. Talking Leaves is a co- sponsor of the Author Series.