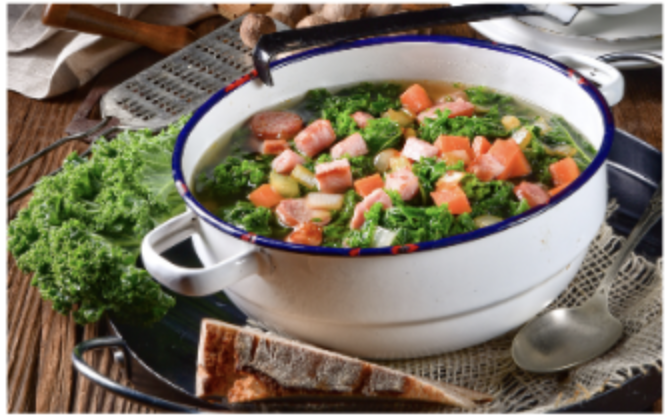 Larkin Square event sponsor, Independent Health, has nicely shared their Healthy Options recipe for Quinoa Vegetable Soup. During the Food Truck Tuesday season, you can enjoy a Healthy Options approved menu item from each of the Food Trucks serving in Larkin Square. While it is cold outside we hope you enjoy this easy to make soup to warm you up!
INGREDIENTS:
2 Tbsp extra-virgin olive oil
1 medium onion, chopped
2 carrots, chopped into rounds
2 celery stocks, chopped
3 cloves garlic, minced
1 zucchini, thinly sliced
1- 14.5 oz can diced tomatoes
1 – 15.5 oz can cannellini beans
1 Cup quinoa
1/2 tsp ground cumin
8 Cups low-sodium vegetable broth
2 Cups kale
1 Tbsp lemon juice
PROCEDURE
1. In a large pot heat oil over medium heat
2. Add onion, carrot, celery, and garlic. Cook for about 10 minutes or until
vegetables are soft.
3. Add zucchini, diced tomatores, beans (drained and rinsed), quinoa,
cumin and broth. Stir to combine and bring to a boil. Cook for about 13
minutes or until quinoa is tender.
4. Stir in kale and cook for about 1 minute.
5. Stir in lemon juice and season with salt, pepper, and red pepper flakes. Serve and Enjoy!