Larkin Development Group is pleased to provide free parking to guests touring the 2023 Decorators' Show House here in Larkinville.
We hope you enjoy your visit to the Show House and invite you to stop by one of the many area businesses for food, drinks and shopping. All are within easy walking distance to the Show House.
Please park in the lot at Seneca and Exchange Street, near Hydraulic Street.  You can walk out to Seymour Street from the lot and then turn left on Seymour Street and the Show House is just ahead on the right at 102 Seymour Street.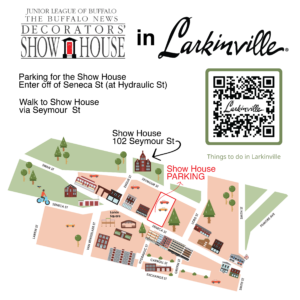 Here is a listing of area businesses and you can also find them through the QR code or this link
Hydraulic Hearth Restaurant, 716 Swan Street: (opening at 4 pm) offering an array of merch, bottled cocktails and beer and gift cards for your spring gifting along with all their delicious food, drinks and craft cocktails for dining in or take out.
Swan Street Diner, 700 Swan Street: open 7 am – 3 pm.  Stop by for breakfast or lunch d
Paula's Donuts, 872 Seneca Street: donuts, smoothies, sandwiches and more.
The Plating Society, 799 Seneca Street (turn right on Hydraulic Street to access their space) private dining and pop-up events.
Breathe Organic Salon, Millrace Commons, 799 Seneca Street: In addition to a haircutting, styling and coloring salon, their shop features a full line of Organic Products from O-Way.  Offering organic gift collections by hair type.
Buffalo Expendables, Millrace Commons, 799 Seneca Street: Providing quality products for film, television and stage. In addition their shop features some creative offerings for gift giving.
The Lounge Shop, Millrace Commons, 799 Seneca Street: selling everyday basics + Buffalo loungewear, gifts and more.
Blue Table Chocolates, Millrace Commons, 799 Seneca Street: House-made artisan made chocolates and chocolate collections. Lots of gifting options!
Toasted Buffalo, Millrace Commons, 799 Seneca Street: Featuring artisan coffees and teas, toasts with toppings, smoothies and more!
Magic Bear Beer Cellar, Millrace Commons, 799 Seneca Street: Beer store and tasting room and beer classes.
bkindcity, 871 Seneca Street: bkindcity features "East Coast street style meets West Coast vibes" with their feel good/ feels good unisex apparel brand. Lots of options for spring gifts and your own leisurewear.
Buffalo Distilling Company, 860 Seneca Street: Bar room and still house, distilled in Larkinville.
Flying Bison Brewing Company, 840 Seneca Street: Brewery and tasting room.