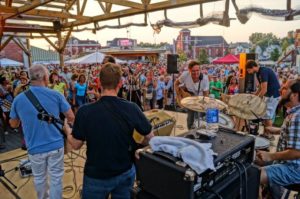 South Buffalo Night, The Live at Larkin annual celebration, returns on Wednesday, August 26th. The beer is brewing now down the street at Flying Bison to insure a plentiful supply for the most popular and fun night of the season in Larkin Square!
The event will feature headliner Brian Higgins and the Exchange Street Band, along with the South Buffalo All-Stars, Crikwater, and Congressman Higgins' son, returning from Nashville: John Higgins!
Enjoy the music of these South Buffalo natives while snacking on a bite to eat from a diverse selection of food vendors! Vendors include: The Whole Hog Food Truck, Amy's Truck, The Yogurt Shack, Sweet Melody's Gelato, West Side Bazaar, Knight Slider, and Mattie's On Site.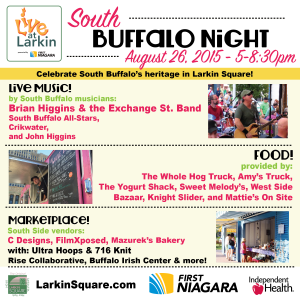 A Larkinville event wouldn't be complete without a marketplace! Shop from an assortment of art and craft vendors including South Buffalo landmark The Buffalo Irish Center; desserts from Mazurek's Bakery; stationery from C Designs; photography by FilmXposed; Buffalo's original hula-hoop shop, Ultra Hoops; Buffalo's first yarn truck, Knit Buffalo; an organization dedicated to expanding Buffalo, Rise Collaborative; and more!
Whether you're from South Buffalo, love the people in it, or generally like to have a good time, this is the place to be!
Extra bars will be open serving beer and wine for the event, which runs from 5 pm-8:30 pm, Wednesday, August 26th. See you there!