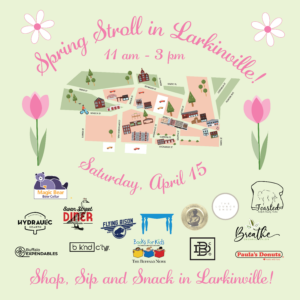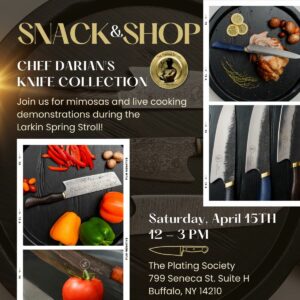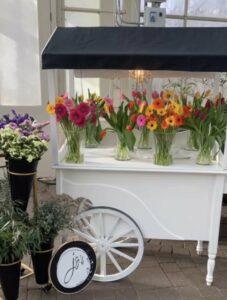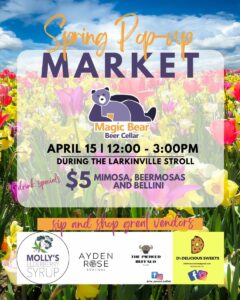 Celebrate spring with a "Stroll in Larkinville" on Saturday, April 15th.  Most events will be from 11 AM – 3 PM with some venues opening earlier and some staying open later.
Walking from west to east along Seneca Street enjoy: 
Buffalo News Books for Kids, Donate a new book to directly help a child in need and help them build a pathway to a better future. Donations may be dropped off in either lobby at the Larkin at Exchange Building, 726 Exchange Street or at any of the participating Larkinville Stroll retailers.
Paula's Donuts, 872 Seneca Street: Stop by for a free donut with purchase of a beverage during the Spring Stroll.
bkindcity, 871 Seneca Street: bkindcity features "East Coast street style meets West Coast vibes" with their feel good/ feels good unisex apparel brand. Lots of options for spring gifts and your own leisurewear.
Buffalo Distilling Company, 860 Seneca Street: Bar room and still house, distilled in Larkinville.  Opening early at 11 AM for the Spring Stroll, with special drink offerings. Enjoy a cocktail at their bar or buy a bottle to take home.
Flying Bison Brewing Company, 840 Seneca Street: Begin your stroll at 10:00 AM with a 45 minute yoga class, ($25 fee). At 11:00 AM join a free 6 or 4 mile run from and returning to Flying Bison.  All are welcome to join the run. From noon – 3 PM enjoy a happy hour special on your Stroll. At 1PM, Pixie Mammas Dog Rescue will be at the Brewery.
The Plating Society, 799 Seneca Street (turn right on Hydraulic Street to access their space) Stop by for Mimosa's and a live cooking demonstration by Chef Darian Bryan! While there, enjoy their pop-up shop of Chef Darian's knives.
Breathe Organic Salon, Millrace Commons, 799 Seneca Street: In addition to a haircutting, styling and coloring salon, their shop features a full line of Organic Products from O-Way.  Offering organic gift collections by hair type.
Buffalo Expendables, Millrace Commons, 799 Seneca Street: Providing quality products for film, television and stage. In addition their shop features some creative offerings for gift giving. 
The Lounge Shop, Millrace Commons, 799 Seneca Street: selling everyday basics + Buffalo loungewear, gifts and more. Stop by during the Spring Stroll to make your own floral bouquets from Jos Event Cart.
Blue Table Chocolates, Millrace Commons, 799 Seneca Street: House-made artisan made chocolates and chocolate collections. Lots of gifting options!
Toasted Buffalo, Millrace Commons, 799 Seneca Street: Featuring artisan coffees and teas, toasts with toppings, smoothies and more! Offering "Flights of Toast" and their releasing their new spring menu during Spring Stroll!
Magic Bear Beer Cellar, Millrace Commons, 799 Seneca Street: Beer store and tasting room. Enjoy sip and shop with $5 beermosas, mimosas and bellinis. During Spring Stroll featuring a pop-up artisan's market.
Hydraulic Hearth Restaurant, 716 Swan Street: (opening at 4 pm) offering an array of merch, bottled cocktails and beer and gift cards for your spring gifting along with all their delicious food, drinks and craft cocktails for dining in or take out. Opening early at 3 PM to enjoy refreshments outdoors in their beer garden!
Swan Street Diner, 700 Swan Street: open 7 am – 3 pm.  Stop by for breakfast or lunch during the spring stroll.