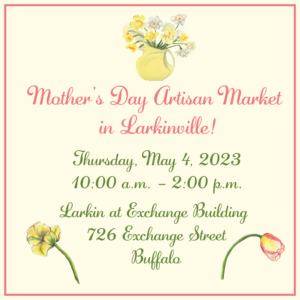 Time for some spring shopping in Larkinville! Stop by the Larkin at Exchange Building first floor, 726 Exchange Street for the annual Mother's Day/Spring Artisan's Market from 10 AM – 2 PM.  Enjoy shopping from dozens of local vendors.
Vendors scheduled to sell at the Market include:
Adam's Apples, Buffalo Artisan Food Traders, C Busco Ceramics, Coot Woodworks, DMG Buy Products, Donna's Pepper Jelly & Jams, Dragon Girl Tea, DragonFly Jams & Jellies, Eight x Eight, Gardens 56, Jassy Buffalo Creations, Just Sew Embroidery, Kristen's Creations, Kreations with Heart, L & J Creations Hand Painted Glassware, Lilla Rose Hair Accessories, Natalie Rae NY, Park Edge Sweet Shoppe, Patrice Designs, Pet Connection Programs, Inc., Predmore Creations, Silver Lining Jewelry, Sunshine Art Designs, The Grouchy Old Biker, Two Birds Craft Works, Vinegars Etc., Magic Bear Beer Cellar, Adam Zyglis, Blue Table Chocolates, The Lounge Shop, Empire State Woodworking, The Buffalo News Store.
Before or after the market, stop by the Swan Street Diner (716 Swan Street), Toasted (799 Seneca Street), Paula's Donuts (872 Seneca Street) or the Cafeteria inside the Larkin at Exchange Building. Free parking during the market is available in the surface lots along Exchange Street.