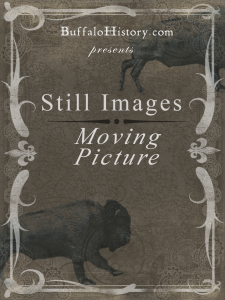 Now open in (716) GAL-LERY, Buffalo's smallest art gallery inside the Hydraulic Hearth Restaurant & Brewery:  Still Pictures | Moving Image
Old and new technology merge in the form of historic photos and 3D printed materials in this  original exhibition presented by Buffalo based Historic Pictoric.
The exhibition features a series of motion picture boxes handmade by Historic Pictoric, an innovative art and media company that explores the evolution of the Americas by showcasing the best of historic photography and design.
Representing "a precursor to cinematography," the exhibition utilizes flip books and narration to reveal the early motion picture innovations of Eadweard Muybridge and Thomas Edison, including the former's roaming buffalo and the latter's invention of the vitascope, which was employed at Buffalo's Ellicott Square Building in 1896 to become the first known dedicated, purpose-built motion picture theater in the world.
Be sure to listen in on the phone to learn more about this early technology. Make your own flip book with a guide in the Creation Station, on the side of the phone booth!