The Larkin Square author and speaker series is pleased to welcome Buffalo and Hydraulics native, Tom Dudzick,  back home to speak with his long time friend Mike Randall.
Tom Dudzick was born and raised in the Larkinville neighborhood above his father's tavern on Seneca Street, Big Joe's. Big Joe's and his many memories of growing up in the neighborhood inspired his Over the Tavern series of plays as well as his play Miracle on South Division Street.
Tom is in town preparing for the premiere of his new musical, Christmas Over the Tavern. The world premiere at MusicalFare Theatre will be on stage Novemeber 14th – December 16th, 2018. The musical features an all-new holiday story about Buffalo's favorite family, the Pazinskis, from his Over the Tavern series.  "Christmas 1959 is not very merry for the Pazinskis.  Dad is going through a mid-life depression and refuses to buy a Christmas tree. Sister Clarissa is threatening to expel 12-year-old Rudy for performing a blasphemous one-man Nativity Scene where he plays all the characters as Hollywood celebrities and everyone is worried that this may be their last Christmas together as a whole family. It's a brand new chapter in this WNY tradition," shares notes from MusicalFare Theatre.
Mike Randall is well known as the chief meteorologist at WKBW channel 7 Eyewitness News. He recently celebrated his 35th anniversary with the station. A native of Western New York, Mike is also a professional actor, puppet master and magician. He has performed a variety of roles in theaters locally and around the country and he continues to perform his critically acclaimed solo shows of Mark Twain Live! and Charles Dickens Presents: A Christmas Carol.
Tom and Mike are long time friends dating back to performing together in dinner theater in Buffalo.  They look forward to sharing a preview song from Christmas Over the Tavern as well as their memories of acting together. They will welcome questions from the audience as well.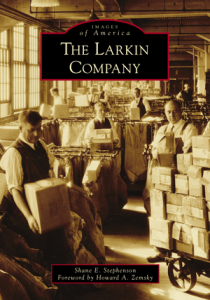 During the event, Larkin Square is pleased to introduce the new book from Arcadia Publishing Images of America Series: The Larkin Company. Written by Shane Stephenson with an introduction by Howard Zemsky. The book is filled with historic photos and the history of the Larkin Company and the neighborhood. Books will be available for purchase, and book signing.
The Larkin Square Author and Speaker Series is made possible by presenting sponsor KeyBank and sponsor Independent Health. The Filling Station will have snacks and refreshments available for purchase at the event.