Like many other businesses and event facilities, Larkin Square has pressed pause on our 2020 event season due to the coronavirus pandemic. Since we cannot begin Food Truck Tuesday just yet, we decided to bring some of the best menu items to you at home. We've partnered with several food trucks to share their Healthy Options recipe – a delicious menu item that you can find at every Food Truck Tuesday that is approved by the Independent Health Foundation.
First up, we talked to Amanda Amico, Operator of Amy's Truck. Amy's Truck features Mediterranean inspired cuisine using fresh & seasonal ingredients with plenty of vegan & vegetarian options. Their Healthy Options Recipe is a Chicken Souvlaki Wrap. Check out the recipe and step-by-step video below to create this Amy's Truck's classic!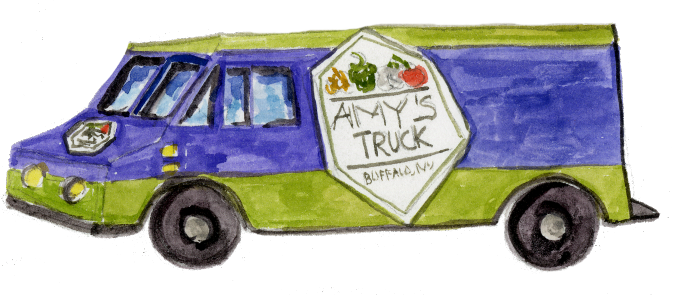 Chicken Souvlaki Wrap
INGREDIENTS:
1 PITA BREAD
3 oz ROASTED & DICED CHICKEN BREAST
1/2 cup SHREDDED LETTUCE
1/2 cup DICED TOMATO
1/2 cup CHOPPED ONION
1/8 cup FETA CHEESE, CRUMBLED
1 tbsp EXTRA VIRGIN OLIVE OIL
1 tbsp RED WINE VINEGAR
Larkin Square events are generously presented by KeyBank and sponsored by Independent Health. We are thrilled to continue our partnership and collaboration with both organizations as we move into the 2020 season.