Looking for a Mother's Day gift or to treat yourself to something special? We are happy to bring a Virtual Spring/ Mother's Day market to you featuring some vendors who have participated in past markets in Larkin Square and in the Larkin at Exchange Building, and others! The following vendors are able to offer shipping, delivery or curbside pick-up to make your shopping safe and convenient. Happy Mother's Day from Larkin Square! Happy Shopping!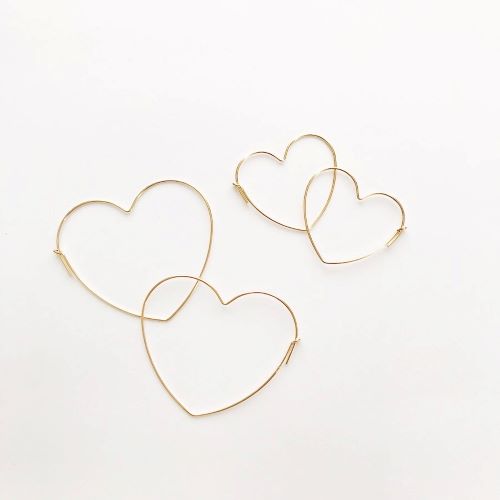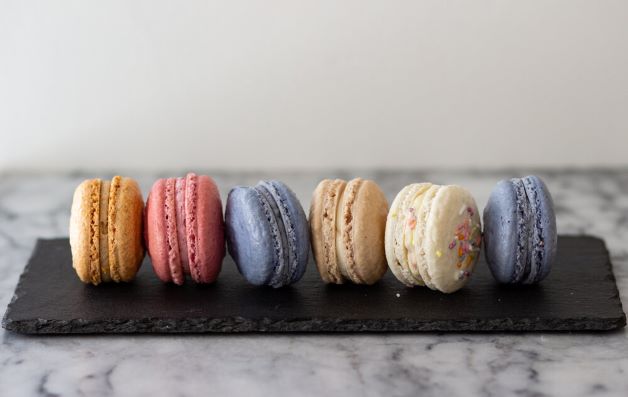 Blue Eyed Baker: Known best for incredible french macaroons, Blue Eyed Baker offers a variety of scratch-made baked goods & pastries, made fresh daily with locally sourced, natural ingredients. Bake at home items are also available! If the way to mom's heart is through her sweet tooth, shop Mother's Day specials here! Curbside pick-up is available Sundays 10am-12pm at their East Aurora store front where they share space with Kornerstone Cafe.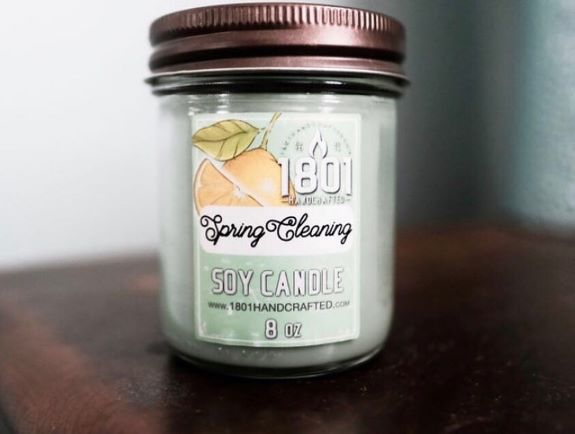 1801 Handcrafted: Husband & Wife run small business – Bridget & Adam create hand made items such as rustic signs, soaps and hand poured soy candles and wax melts. One of their newest items is a DIY Candle Kit that includes everything you need to make 3 – 8oz candles. Great for a mom who enjoys crafts. Shop more online! Shipping is available.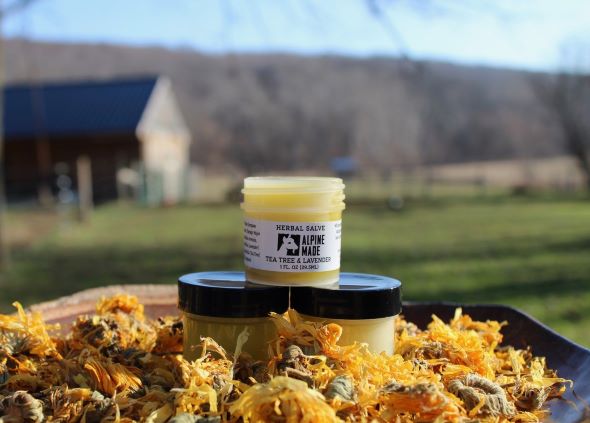 Alpine Made: Skincare, beauty products & soap handcrafted with Raw Organic Goat's Milk, made fresh everyday at Alpine Goat Farm in New York. Browse more products on their website. Alpine Made offers free shipping on orders of $75+.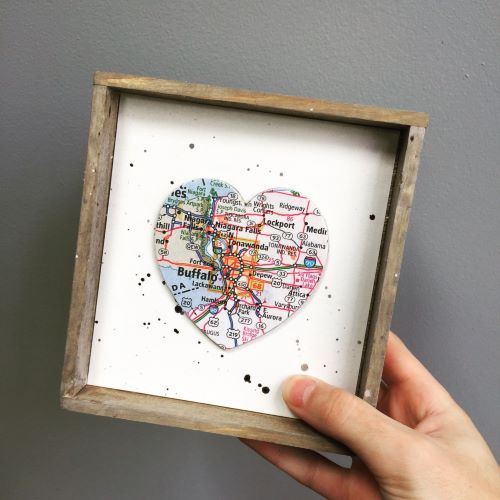 jf.vintage: Joshua Frass creates original mixed media artwork, home décor, and custom gifts including Buffalo, NY themed items using vintage maps and sheet music. The unique products make perfect gifts for Mother's Day and Class of 2020 graduations. Shop the perfect original jf.vintage design for mom on Etsy! Jf.vintage offers free shipping & custom orders!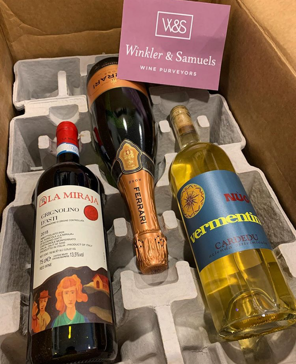 Winkler & Samuels: Wine Boutique, located here in the Larkin District, with an extensive selection of world class wine. Melissa Winkler, Sommelier, can help you find the perfect gift for every preference & price point. Call (716)235-8121 to place an order or visit their website or Instagram for more information.
Winkler & Samuels offers curbside pick-up, delivery & shipping. City delivery is free over $50 & shipping is free over $300!

Fairy Cakes Cupcakery & Bakeshop: Known for their variety of homey & delicious desserts, made right in the heart of Buffalo. Offerings from Fairy Cakes include cookies by the dozen, small cakes, sticky buns, cinnamon rolls, Sm & Lg Dessert Tea Packages and more. For Mother's Day, Fairy Cakes has partnered up with some other local vendors (Overwinter Coffee, William's Florist & Kitch Studios) allowing you to grab a variety of things in one place. They are featuring Gift Local Dessert Packages which includes a tea towel from Kitch Studios, a William's Florist bouquet, and an Overwinter coffee (or dessert tea!) along with your bite size treats by Fairy Cakes. Items are available with the Gift Local Dessert bundle & separately. Check out the full menu & details here! Curbside pick up for Mother's Day is available Sunday May 10th 10am-2pm!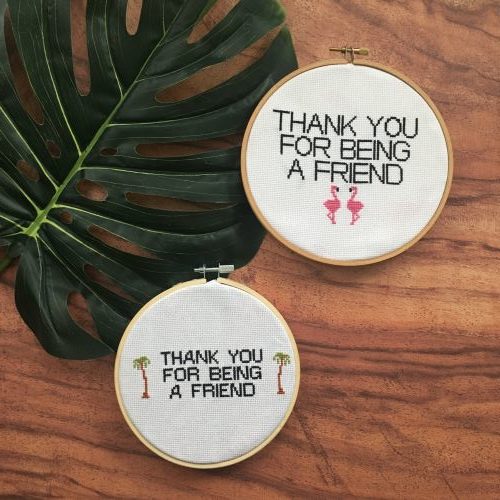 West Side Stitchery: While mostly recognized for warm and cozy handmade knitwear, West Side Stitchery is warming things up this spring with all things embroidery! From statement making hoop art to hand embroidered caps (and not to mention their ability to customize!), West Side Stitchery is keeping spring time cool, and cute! While their website is under construction, please contact them via Facebook or Instagram for custom orders. Free delivery is available within 10 miles of 14213, orders can also be shipped via Etsy.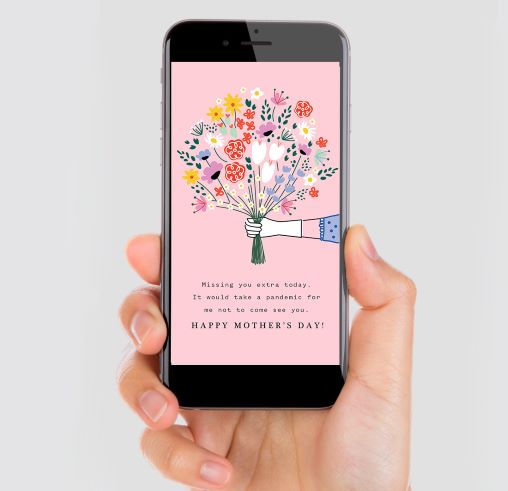 Spaghetti Meatballs: Homemade E-cards, greeting cards & water color art. E-Cards are an amazing way to send some handmade happiness to your favorite lady, and still abide by social distancing rules! Shop more greeting card designs on Etsy. Spaghetti Meatballs is currently sending a free thank you card for essential workers on orders of 3+, offering 20% off discount on orders of 5+ & free shipping on orders of $40 or more.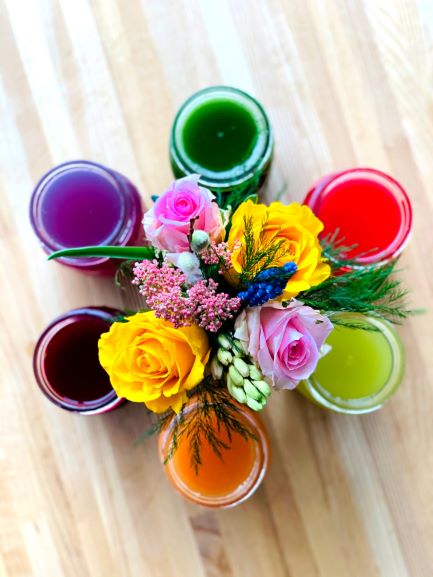 Ashkers: With a menu ranging from breakfast to dessert, offerings include fresh ingredient meals, smoothies, coffee, cold pressed juices, retail grocery & pantry items, all available for home delivery. They are currently offering home pancake kits & juice bundles sent with a fresh bouquet! How cute for mom? View their full menu. Pick up & no contact delivery available daily!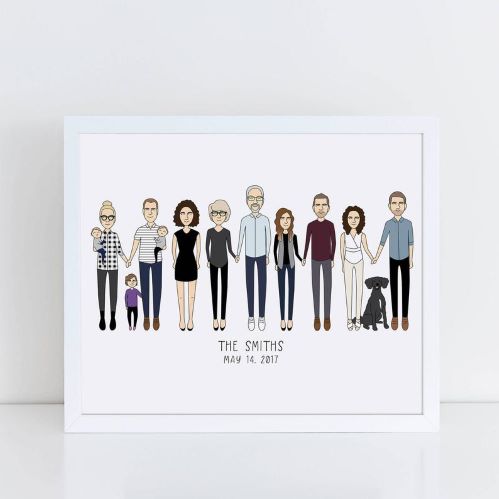 Tiny Buffalo Designs Co: Handmade illustrated paper goods. This custom family portrait is sure to make any Mom smile. Family or pet portraits and greeting cards available in her Etsy shop! Shipping available!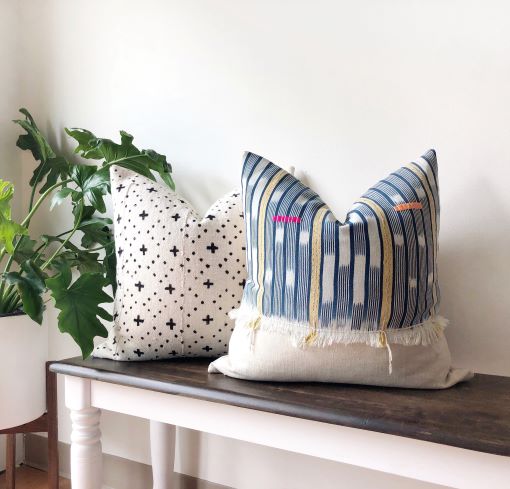 Poppiejanes: One of a kind custom pillow covers made from fabric sourced world-wide. All covers are handmade in Buffalo. Poppiejanes offers a variety of Buffalo theme pillow covers as well as beautiful layering pillows created with a blend of linens, vegan leather and global textiles. Whether you are looking for a gift or something for yourself, Poppiejanes is a place to get high quality, unique pillows. Shop more on Etsy. Poppiejanes offers free shipping!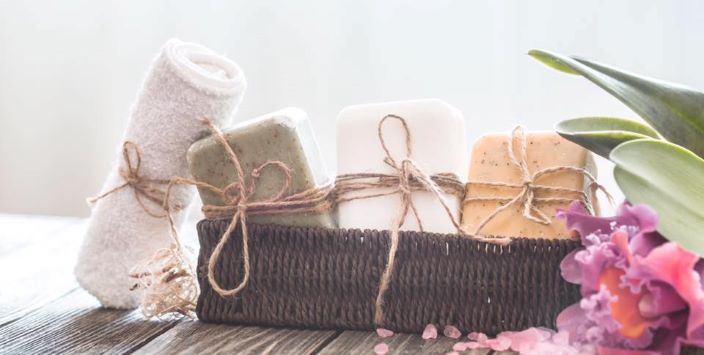 Purely Scentual Soaps & Gifts: Known for their natural hand-crafted, cold process soaps. Products range from bath & beauty products for you or your dog, to gift baskets and custom gifts (She's even got a soap bouquet!). Gifts are available for Mother's Day and can be purchased on their website. Shop here! Free shipping & local porch delivery is available.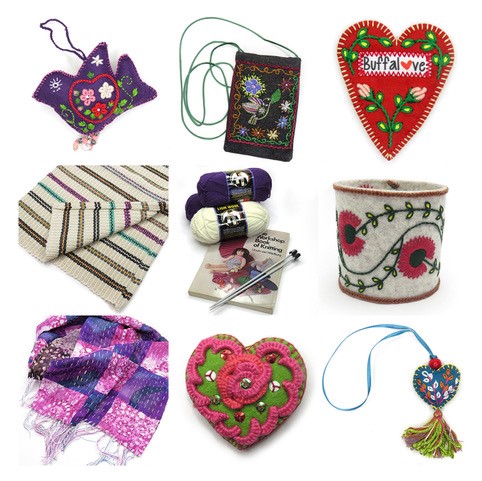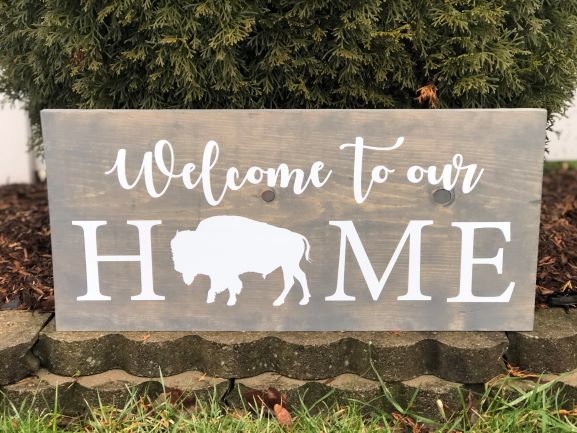 Home Decor By K: At Home Decor by K, shop a variety of wooden signs and farmhouse inspired decor. Each sign is designed and created here in Buffalo, NY. Items include 716 signs, personalized name signs, welcome signs and seasonal decor. There are even signs for the dog moms! Browse Home Decor by K on Etsy. Free shipping is currently available for purchases over $35!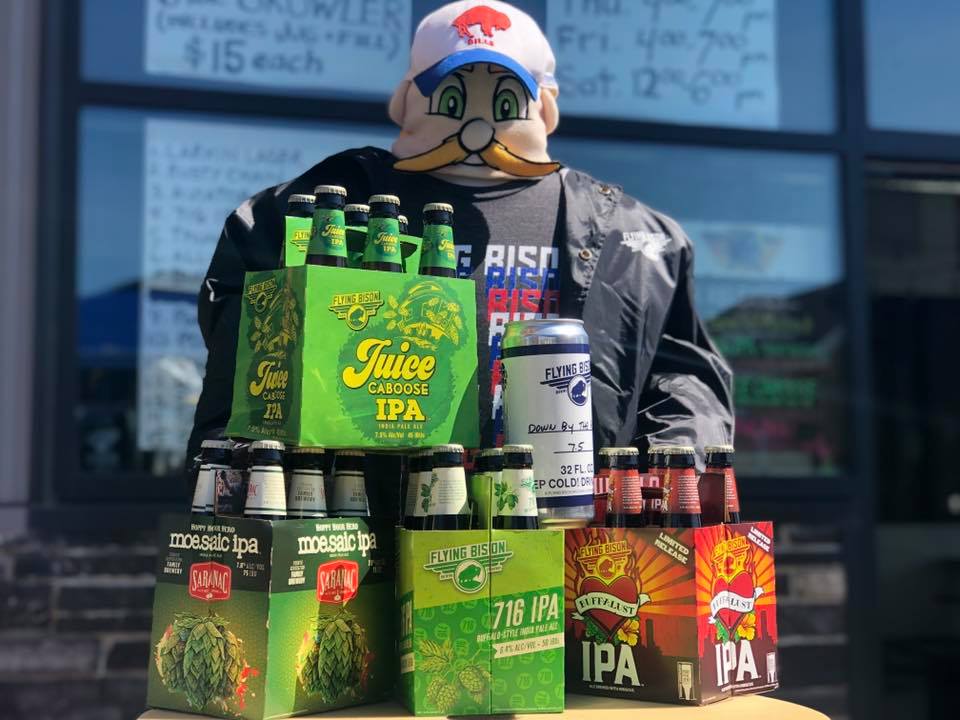 Flying Bison: Packaging brewery located in Larkinville where we get our crowd favorite Rusty Chain! If your Mom is a beer lover, Flying Bison has adapted with the times efficiently. Beer pre-order is available for pick up Wedensday-Saturday. All bottles & cans are currently BOGO 50% off & 64oz. Growlers are only $15! They are also hosting farmer's markets with Kindred Kreek farm (Next up Apr. 30) and other pop up events. More info on event dates and beer availability can be found on their Facebook.
**MUST BE 21 OR OLDER**
Buffalo Distilling: NYS Farm Distillery located in a historic building in Larkinvilla, known best for their hand-crafted One Foot Cock Bourbon Whiskey, Apple Brandy, & Krupnik. Adapting with the time, Buffalo Distilling is now also offering hand sanitizer! Stay tuned on their Facebook for availability & hours. Bottle pick up & local delivery available! Order ahead here.
Last but not least, here are some restaurants open on Mother's Day!
Oliver's Restaurant, Buffalo – Curbside Pick Up
Osteria 166, Buffalo – Curbside Pick Up & Local Delivery
Root & Bloom Cafe, Buffalo – Curbside Pick Up
Polish Villa II, Cheektowaga – Delivery
Mulberry, Lackawanna – Takeout
The Grange, Hamburg – Takeout
Britesmith Brewing, Williamsville – Curbside Pick Up
Zoe Restaurant, East Amherst – Takeout & Local Delivery
Grapevine Restaurant, Amherst – Curbside Takeout & Delivery ** Mother's Day Specials Available here! **
Pane's, N Tonawanda, No Contact Pick Up & Delivery
Fortuna's, Niagara Falls – Curbside Takeout
Gallo, Lewiston – Doordash Delivery