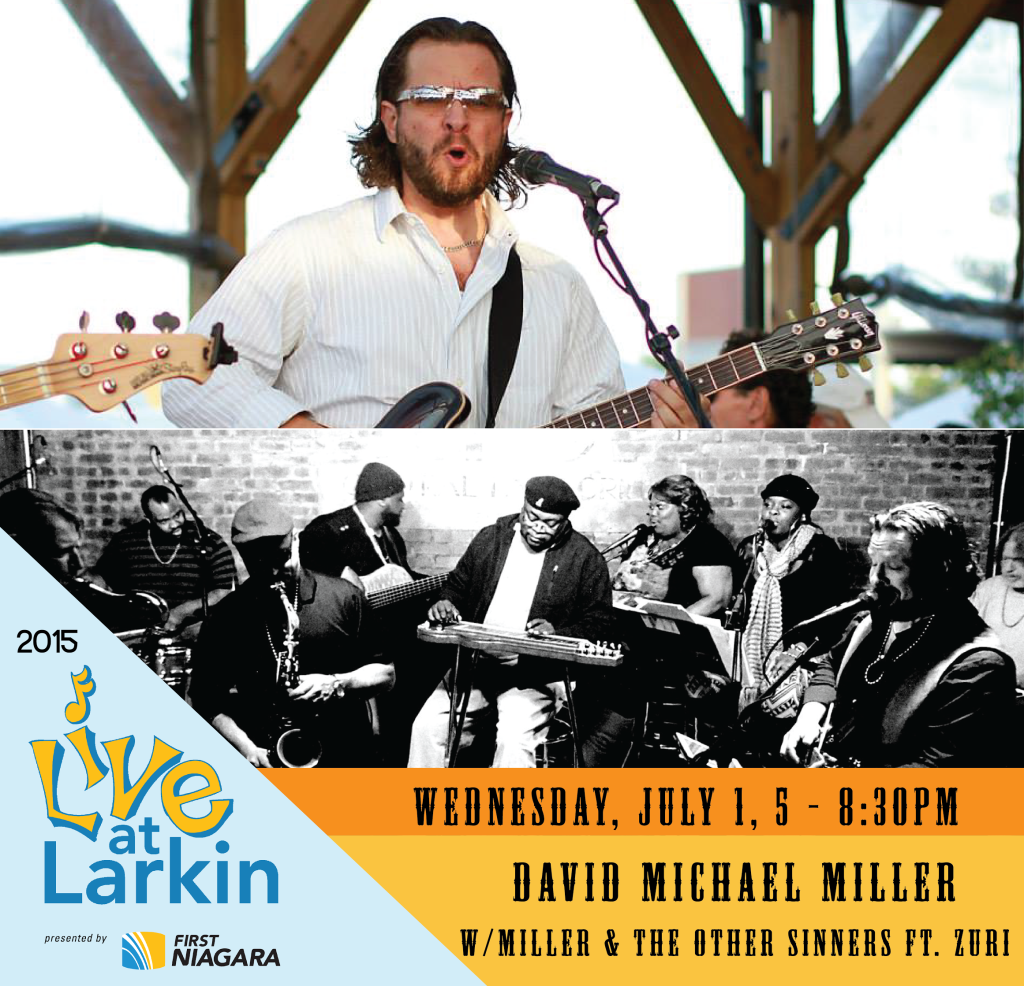 "Wow" is the word for Week 2 of Live at Larkin!
The big crowd howled a big, loud, "Wow!" after the New Orleans Swamp Donkeys and Black Rock Zydeco combined for our dual band encore, stepped offstage to start a NOLA-style second line parade to the tune of "When the Saints Go Marching In," and led scores of smiling guests across the street into Hydraulic Hearth's new beer garden, where our Wednesday post-concert resident act Jony James Band welcomed them by playing along – in all, performing together were 14 musicians between 3 bands, none of which had ever collaborated. Click here for awesome video of this magic moment courtesy of Buffalo.fm!
That was certainly a first for Live at Larkin; next up is another such special occasion in our first album release party, as David Michael Miller takes the spotlight to lead both sets with two different bands. The Dive House Union frontman puts profound warmth into every note he sings and plays – his aim is true, his music is pure, and in turn, his stock is rising.
Miller's first set will be backed by the aces who helped make his first solo album, "Poisons Sipped," 2014's clear-cut Buffalo-made Album of the Year for my ears, a sentiment shared by roots radio stations and websites around the world. The personnel is world-class – some of them world-renowned – brilliantly coloring Miller's unique blend of many forms of American music to create an album rich enough to earn repeat listens.
Miller's main-event set will welcome a second cast of first-call players in those who contributed to his blues-heavy new release, "Same Soil," which will be performed in full – and for the sure-to-be wild dual band encore, we'll see if our stage can fit both bands onstage at once!
Though we won't expect another second line parade into Hydraulic Hearth, we know that many of these musicians admire the real-deal "survival blues" of Jony James – expect some guests to sit in for the beer garden after-party, and as we sure saw this past Wednesday, expect some "Wow!" at Week 3 of Live at Larkin – click here for some videos to help you get ready!