The Larkin Square Author Series is pleased to present Buffalo News writer Mark Sommer in conversation with best selling novelist Lauren Belfer on Thursday, September 12th at 5:30 pm in Larkin Square.
Mark is the author of the new non-fiction book Rocky Colavito: Cleveland's Iconic Slugger . The book details the life of famed Cleveland baseball great, Rocky Calavito, Jr.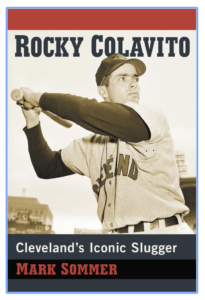 Sommer's comprehensive biography of "the Rock"—the first in more than half a century—recounts his origins in an Italian immigrant family, his close friendships with Herb Score and Roger Maris, and his rise through the minors to become one of the Cleveland Indians' most beloved players. Colavito retired with the third-most home runs by a right-handed batter in American League history.
Mark Sommer is an award winning journalist for the Buffalo News. His writing in the News covers development, urban planning, the waterfront and culture. Sommer grew up as an avid Yankees baseball fan. Writing this book was an opportunity for Sommer to revisit his childhood passion.
Buffalo native, Lauren Belfer will be returning to her hometown for her seventh consecutive talk in Larkin Square. Belfer is the author of the best selling novels, City of Light, and After the Fire and A Fierce Radiance.
Friends, Belfer and Sommer will talk about Sommer's new book and writing in general. A "Q and A" along with a book signing will follow their talk. Books will be available for purchase at the event, courtesy of Talking Leaves. The Filling Station will offer refreshments available for purchase.
Larkin Square Author Talks are free and open to the public, no reservations needed. They are presented by KeyBank and sponsored by Independent Health. Parking is free in Larkin Square and the surface lots across the street.