The Larkin Square Author Series is pleased to welcome back Buffalo native and best selling food writer, Molly Stevens, to talk about her new cookbook, All About Dinner .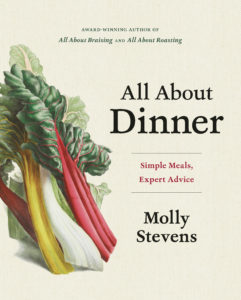 Joining Molly in conversation will be Buffalo News Food Editor, Andrew Galarneau. The event takes place, Sunday November 10th, 2019 at 3 pm in the Filling Station in Larkin Square, 745 Seneca Street. The event is free, including parking. Book sales and signing at the event courtesy of Talking Leaves Books.
Molly's previous two cookbooks, All About Roasting and All About Braising, were both James Beard award winners. Molly Stevens shares that "All About Dinner offers 150 recipes for vegetables, grains, meat, fish, and sweets that will invigorate your everyday menus and build your kitchen know-how. Whether you're hungry for butter-poached shrimp with garlic and tomatoes, chipotle pork tacos, Parmesan risotto, or a triple-ginger apple crisp, each recipe is written to anticipate your questions and inspire improvisation. Cooking your way through All About Dinner will guarantee countless delicious meals—and leave you a better cook."
Andrew Galarneau is the Food Editor for the Buffalo News and writes frequently about Buffalo area restaurants and other local food related news. Andrew and Molly will have a conversation about Molly's food writing, her new book, and food trends for the home cook in general. They will welcome questions from the audience as well.
Larkin Square Author talks are presented by KeyBank and sponsored by Independent Health. The Filling Station will have coffee, tea, beer, wine and light refreshments available for purchase. Join us in welcoming Molly back to Buffalo.