After our Virtual Author Talk with Molly Stevens, Chef Mel made a few of her favorite recipes from Molly's book, All About Dinner. Chef Mel calls her take on the recipe perfect for spring. Risotto works great as an entree served with a side salad or makes a great side for braised meats or pork chops!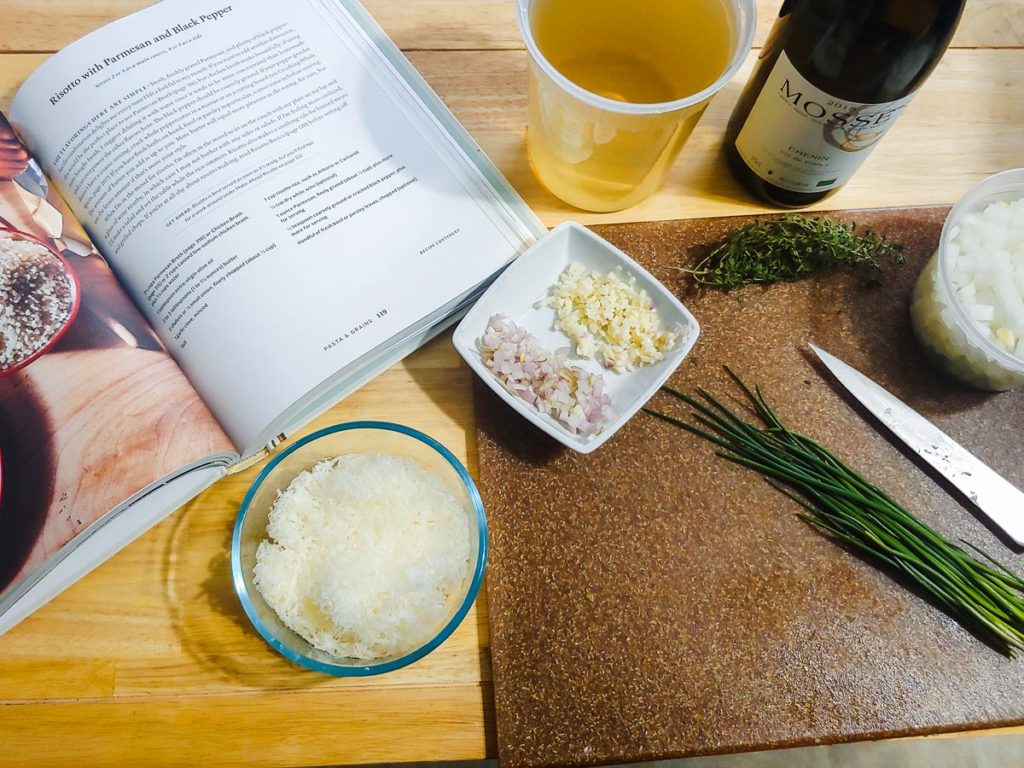 Risotto with Parmesan and Black Pepper
(Serves 2 – 3 as a main course, 4 – 5 as a side)
Ingredients:
3 ½ Cups parmesan broth or chicken broth (Chef Mel uses chicken broth)
1 Tbsp extra virgin olive oil
2 to 3 Tbsp unsalted butter
2 shallots or ½ small onion, finely chopped (Chef Mel uses both, about ½ cup total)
1 whole garlic clove, minced
Salt
1 Cup Arborio or Canaroli risotto rice
½ Cup dry white wine (optional)
½ Cup finely grated parmesan, extra for serving
½ Tsp coarsely ground black pepper
Handful of fresh basil or parsley leaves (Mel substitutes chives & thyme)
Chef Mel's additions for a Springtime touch:
Leaves of 2 brussel sprouts
Handful sautéed mushrooms
½ Cup green peas
Instructions:
On the stove top, bring your broth to a simmer, turn off heat.
In a separate pot, at medium heat, add extra virgin olive oil and 1 Tbsp butter and let the butter melt. **Pro-tip: Rondeau or dutch oven works best. The bottom of the pot should be thick for temperature control & a wide base helps with even cooking.**
Once butter has melted, add onions, shallots, garlic, thyme and a good pinch of salt. Let cook approximately 4 minutes, until onions are tender and translucent.
Once the onions are tender, add the risotto rice and stir until well coated, 1 to 2 minutes.
Add wine and stir, let simmer 1 to 2 minutes. (optional)
Stir in about 1 ½ Cups broth, enough to cover the rice. Be sure to get in all corners of the pan so that no rice sticks.
Adjust the heat so the liquid holds a steady simmer, stir frequently until the broth is almost absorbed.
Continue adding broth 1 cup at a time, stirring and simmering until the liquid is absorbed each time. Approximately 5 minutes between each addition.
After about 18 minutes, begin checking your risotto as to not over cook. Approximately 25 minutes total simmering time.
Once your rice is al dente, add only enough broth to make a creamy texture, remove from heat and fold in remaining 1 Tbsp. butter, parmesan, black pepper, peas, mushrooms, sprout leaves and remaining herbs. Season to taste.
Spoon into warmed bowls or warmed plates. Top with additional grated parmesan and pepper and serve hot.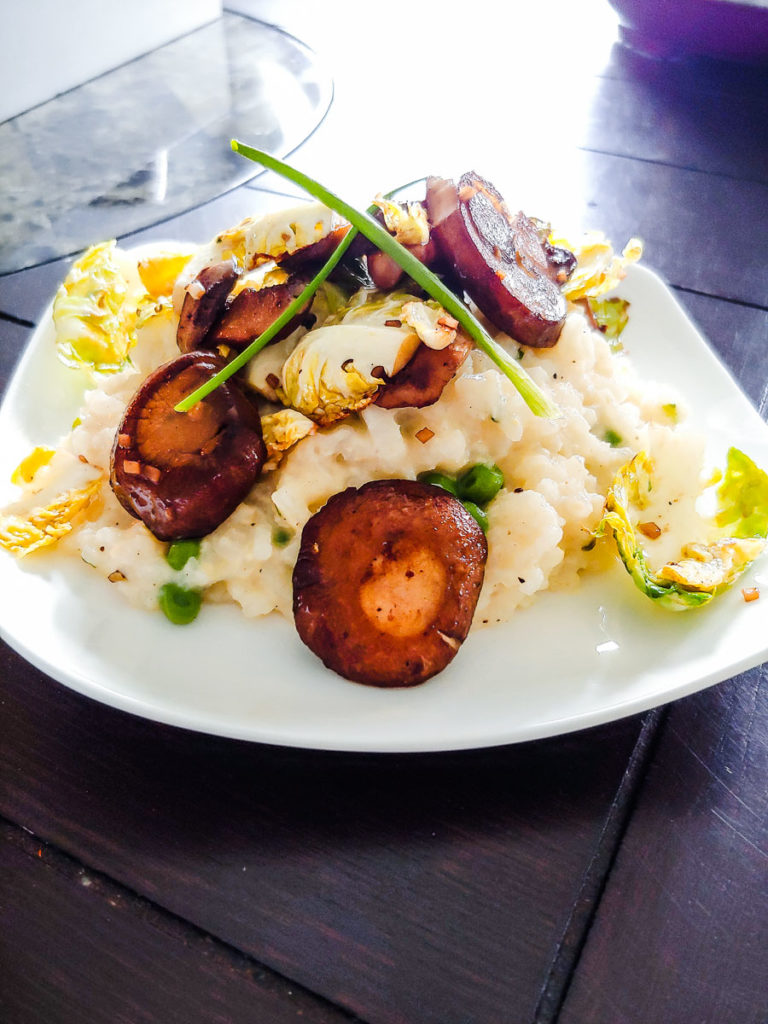 All About Dinner can be purchased on Molly's website or through Talking Leaves Books, which is still fulfilling orders via phone, email, & web:
– phone: 716-884-9524
– email: TalkingLeavesElmwood@gmail.com