Due to the COVID-19 pandemic, most art galleries, theaters and community centers have had to close their doors. The team at PLAY/GROUND, made up of Resource:Art and the Buffalo Institute for Contemporary Art, have been working to figure out how to bring art and creativity to the Buffalo community when we need it the most. After receiving over 60 proposals for public art installations earlier this season, 22 projects have been selected and are now on display throughout WNY.
These installations will be open to the public for safe and socially distanced viewing from September 11-20. We're thrilled to have 5 sites in Larkinville as well as an information table in the square, under the covered boardwalk open from 10am – 5pm on Saturdays and Sundays. Other sites around the area range from Graycliff Conservancy to Canalside and The Burchfield Penney Art Center.
Check out details on the Larkinville installations below and click here to plan your route!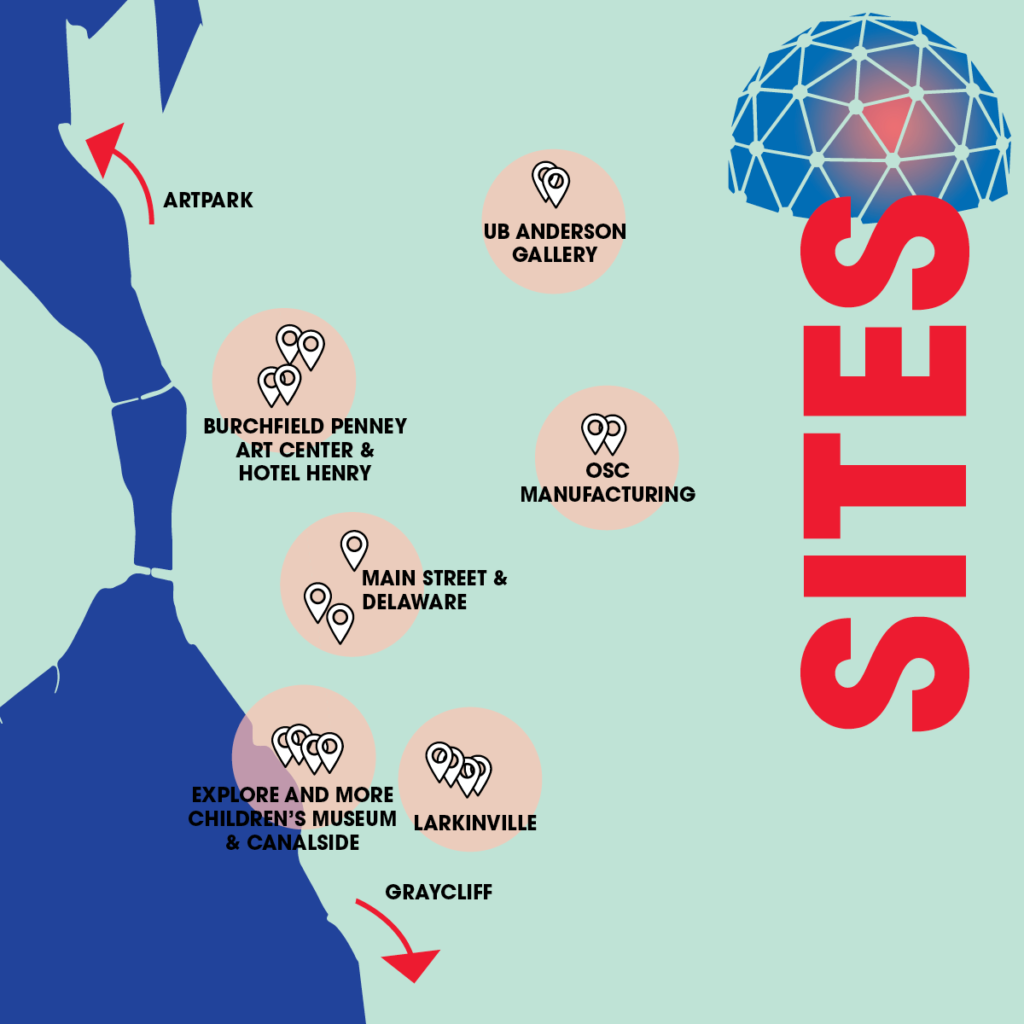 RECLAIM & REDISTRIBUTE
Bianca L. McGraw
Located next to the Swan Street Diner, Reclaim & Redistribute is a sculpture that uses LEGOS to reclaim space. Through the run of PLAY/GROUND the installation will provide viewers with childlike wonder and simultaneously encourage folks to take action. After PLAY/GROUND the LEGOS, along with any others the artist collects, will be repackaged and redistributed to children in disenfranchised communities throughout Buffalo.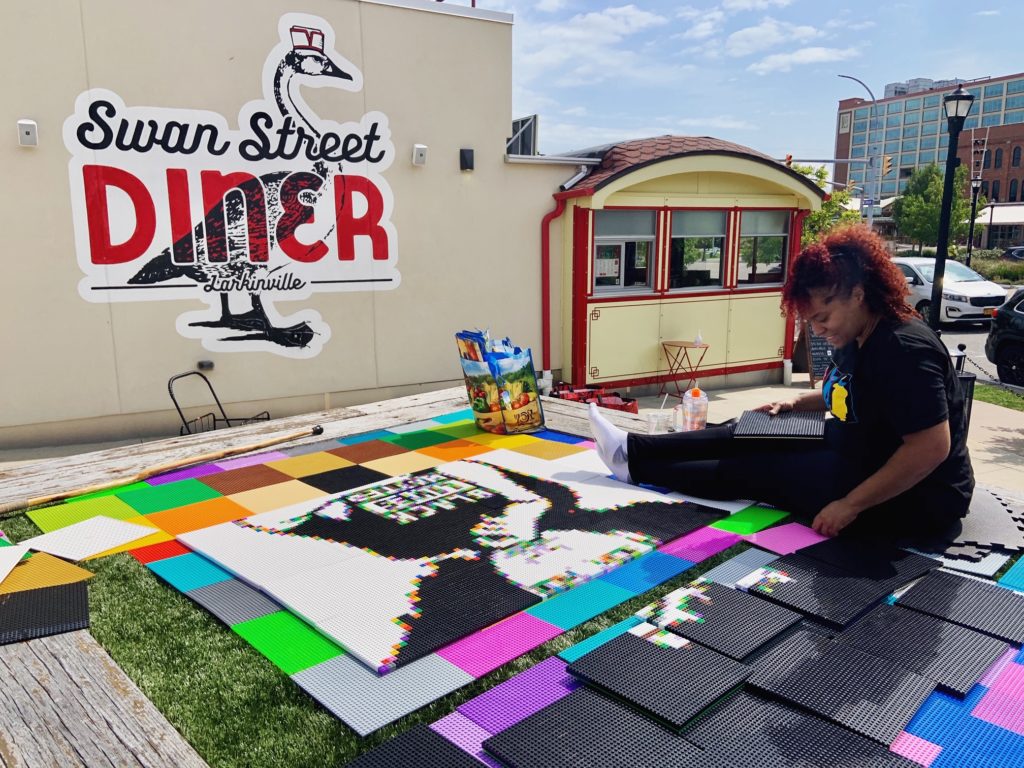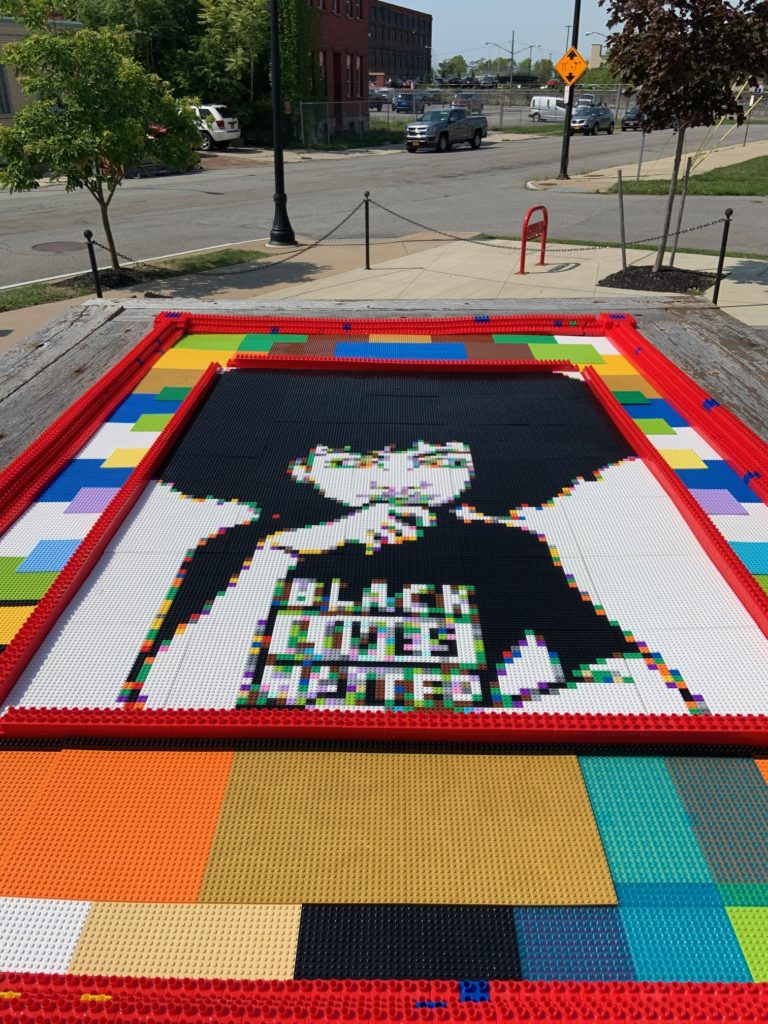 DESCENDS/THIS ENDS
Evan Brownstein & Hadar Kleiman
Located across in the green space across from Millrace Commons (799 Seneca St.), California-based artists Brownstein and Kleiman created an immersive landscape with an arrow stencil and turf paint. The repeating pattern brings to mind historic rises and falls in the stock market, evokes thoughts of economic decline and growth in Buffalo and our nation.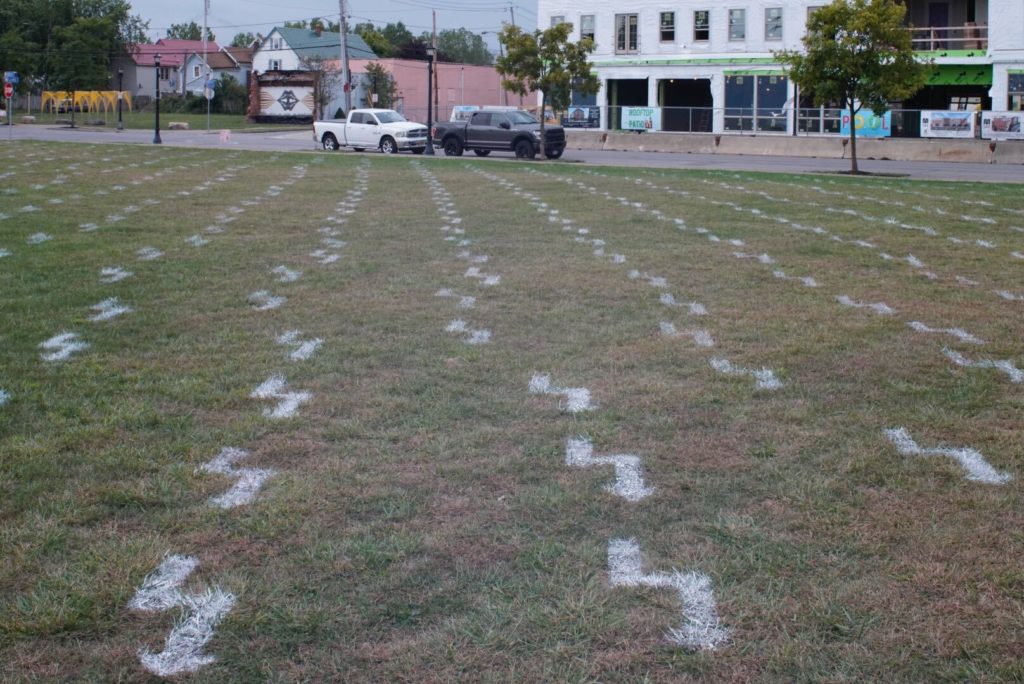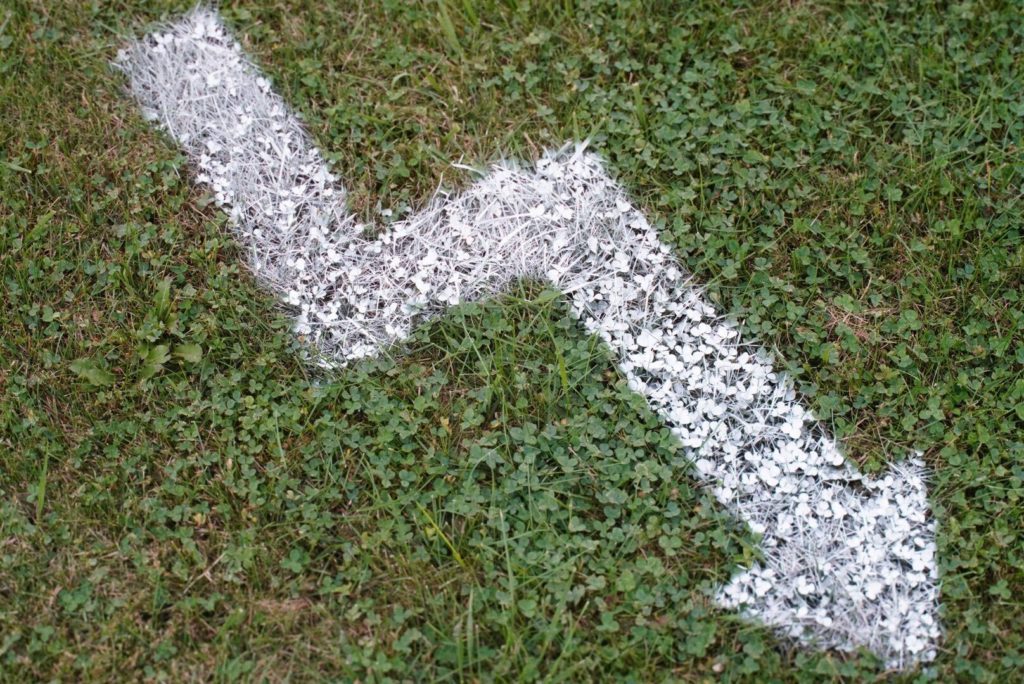 PIPE DREAM
LEGBA GRAPHICS: William Quintana & Christa Trautman
Across from Buffalo Distilling Co. and Flying Bison Brewing Co. at the corner of Seneca St. and Griffin St., Pipe Dream is a brand new take on a traditional arcade. Constructed of piping, paracord, and eyelets, the installation creates a series of parabolic entryways that blend Moorish architecture and classroom string art. The installation is made of colorful cord that creates exciting spaces and challenges the necessity for expensive materials to make quality unique space.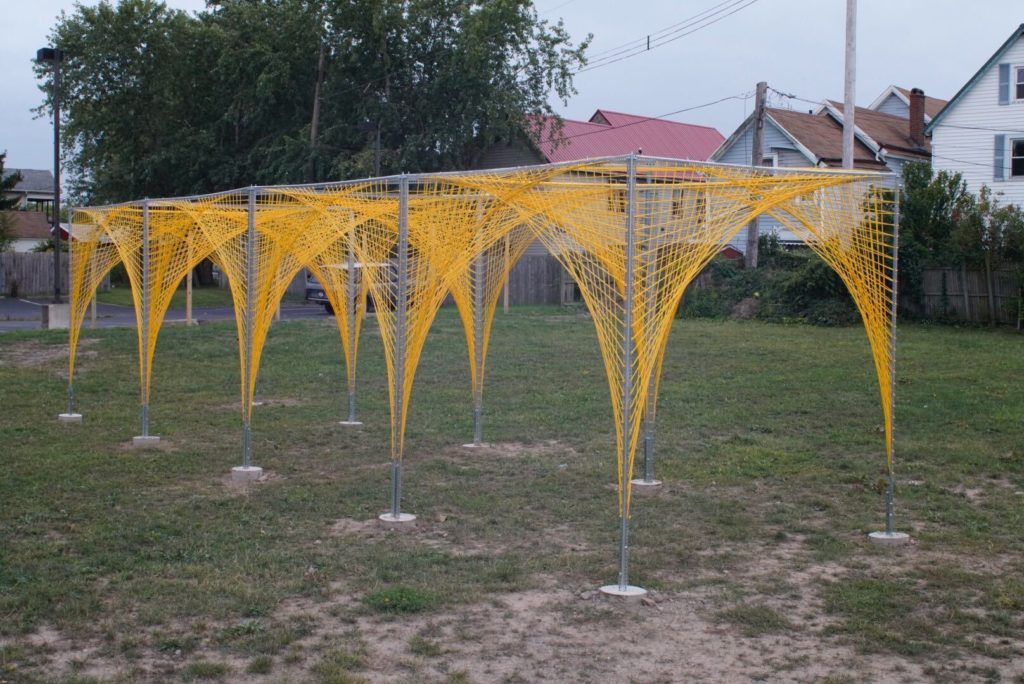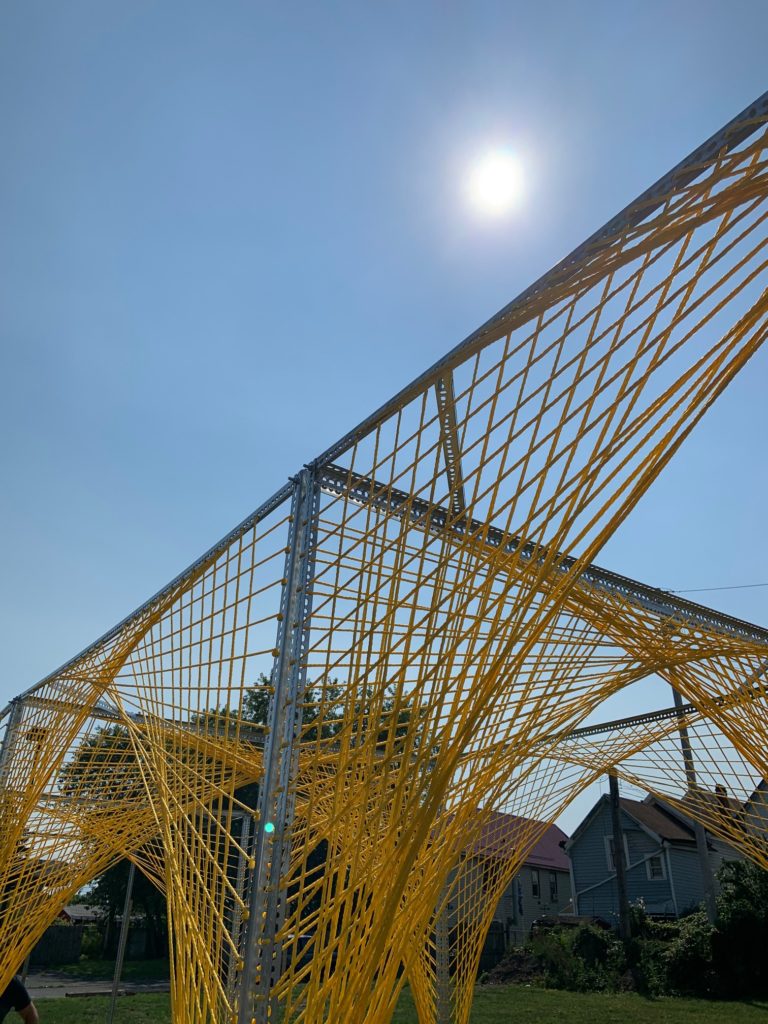 PERMANENTLY CLOSED
Rich Tomasello
This installation is located on Swan Street, across the street from the Swan St. Diner, inside a fenced construction area. Permanently Closed, an installation by Rich Tomasello, consists of two large-scale plaster sculptures of broken, unused, and out-of-reach playground equipment. The rough white material gives off a haunting aura of innocence lost and the emotional effects of our current pandemic times.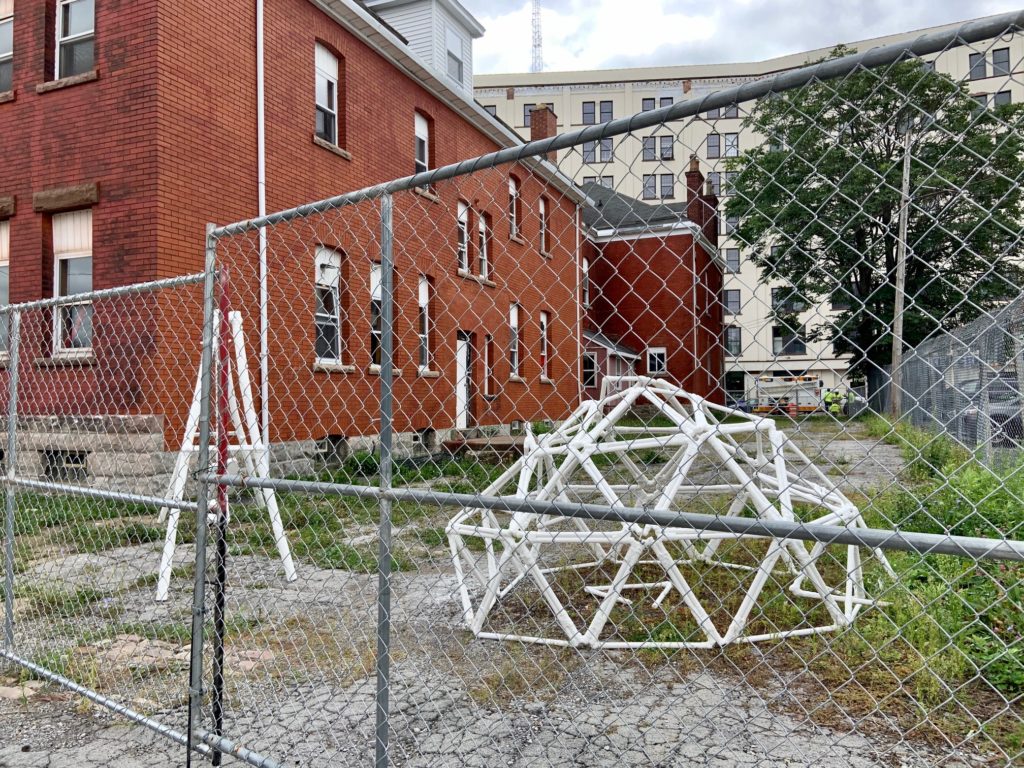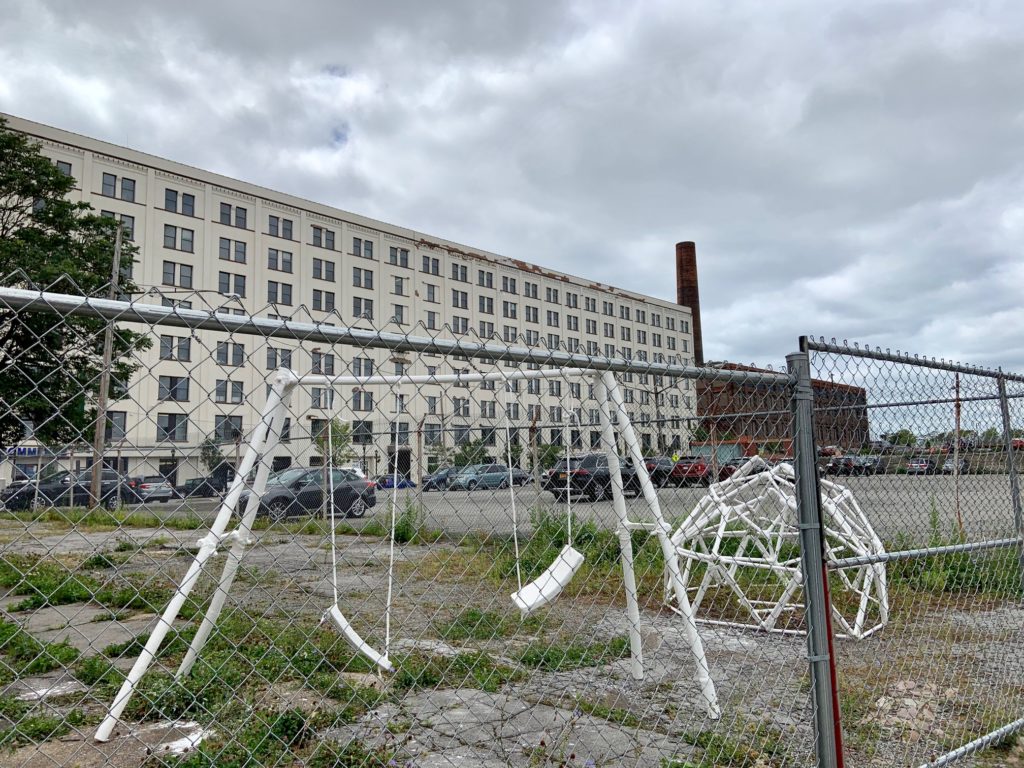 POP-UP GALLERY AT SPACE ON SENECA
Select Artists, 867 Seneca St.
The 1st floor of Space on Seneca is now a pop-up gallery featuring selections from the studio practice of PLAY/GROUND 2020 artists. Open 10am – 5pm on Saturdays and Sundays from September 12th – September 20th.